Upcoming Trips/
Events/Local
QCT Christmas City U.S.A.sm
Departs from the parking lot next to our old office at 3125 Eastway Drive, Charlotte, NC, 28205 (Eastway Executive Offices, across from Wal-Mart and McDonald's, between Central Avenue and Independence Blvd.).
Map it!
What's Included!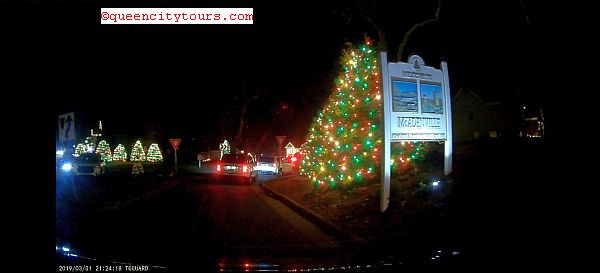 Come out and view the city of McAdenville in its entire seasonal splendor. View Christmas lights and decorated trees, and listen to caroling by local residents. This trip promises to be an evening the whole family will enjoy!
---
2023 Dates:
Saturday 12/2, 9, & 16
Sunday 12/3, 10, 17

Click here to check availability for other dates!

Time:

Depart -- 5 PM
Return -- Approximately 10 PM

Rates:

Adult/Senior/Child: $16.50 per person;

Note: Not recommended for children under 4

Early Bird Discount: $3 OFF per person by 30 days before trip , or

Group Discount: $3 OFF per person with 10 or more if paid at least 7 days in advance.

Note: Driver Gratuities are voluntary and are not included in price!
Note: Vehicle size will be determined by size of group. You may purchase additional seats if you would like to ensure a larger vehicle or request a private tour.
---
Important!
Full Refunds Issued If Trip Is Cancelled By Queen City Tourssm and Travel
See Reservation Form For Additional Terms
Final confirmation required for all reservations!
Click Here To Request Reservation Form!
Confirmations will be forwarded via email so make sure you give us an email address that you check regularly.
We no longer accept American Express Cards!
<<Back to Local Trips!

<<<Back To Upcoming Trips!