Article Archive/March 2010
Updated February 25, 2010



Charlotte Women's History Month


March is Women's History Month

Celebrate Women's History Month by learning the history of Charlotte from a Woman's perspective.

Doris Duke
Tobacco, Electricity, and Transportation Heiress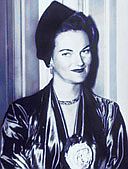 By Jay Whipple/Trend Magazine


Doris Duke was born on November 22, 1912 in New York City. She was the only child of James and Nanaline Duke of Durham, NC. At the early age of 12, she became the richest woman/little girl in the world after inheriting her father's fortune worth reportedly $300 million dollars. In order to become the sole heir of her father's estate she had to sue her own mother whom some blamed for his death in 1925. She reportedly never had any real childhood friends and hence was known as the poor little rich girl.

It is reported that her father used to fly young friends in to Charlotte, NC from Manhattan, New York to join them at a fast food restaurant to keep Doris Duke in good company. On his death bed, James Duke instructed her to trust no one and as such she carried those instructions with her for the rest of her life. She did, however, trust several folks during her adult life such as her adopted daughter and reported beau/butler.

Her adopted daughter – Chandi Heffner --- was 32 years old when Doris took her in as her own. That decision was reversed, however, when a plot was conspired that she was planning to do Ms. Duke in and thus take over the estate. Her Butler -- Bernard Lafferty – was accused of slowing poisoning Ms. Duke after her family learned that he had been named as the Executor of her billion dollar fortune. The family regained control of the estate after Doris' mysterious death in 1993 at the age of 80 and just shy of her 81st birthday.

Ms. Duke was married twice during her lifetime, once to aspiring politician Jimmy Cromwell (Who was 16 years older), and then to Porfirio Rubirosa Ariza, a younger Dominican playboy and two-bit actor who also dated Marilyn Monroe and Eartha Kitt to name a few Hollywood starlets'. It is reported that Mr. Rubirosa Ariza literally passed out upon learning of her net worth during the reading of their prenuptials. She had one daughter (Arden) who died within 24 hours of birth and reportedly spent the rest of her life attempting to contact the child using the assistance of witch doctors, voodoo priests, and soothe-Sayers.

Doris Duke was best friends with Prime Minister Imelda Marcos (A.K.A. the Shoe Lady) of the Philippians Island and was known to perform gospel with a Black choir. She owned exotic animals such as giraffes as well as an estate in Newport Rhode Island (Now a tourist attraction), a farm in New Jersey (Rough Point, now a tourist attraction), a penthouse in Manhattan, New York , a mansion in Beverly Hills, and a castle in Honolulu, Hawaii known as Shangri-La (Now a tourist attraction).

She dated the actor Carey Grant and in Hollywood the couple was reportedly known as Cash and Carey. She was instrumental in the founding of Duke Medical Center in Durham, NC, and was known as an astute businesswoman. Upon her mysterious death in 1993, her Duke Charitable Foundation was worth an estimated $1.2 billion dollars.

Note: The Duke Mansion is still in existence and can be seen on our tours below. Duke University in Durham, NC, is named in honor of her father James B. Duke.

See and learn more about Doris Duke and over 75 other sites on our Annual QCT Charlotte Women's History and Heritage Tour (Women's History Month), Charlotte's Longest-Runningtm Daily City Tour (For Individuals), or the Charlotte City Tour ( For Groups).


Next Stop!

Dr. Selma Burke

Join our email list or become a FAN on Facebook to be notified!