Article Archive/June 2011
Updated May 31, 2011


Melvin Tennant-- Meet Minneapolis
Still In Charge!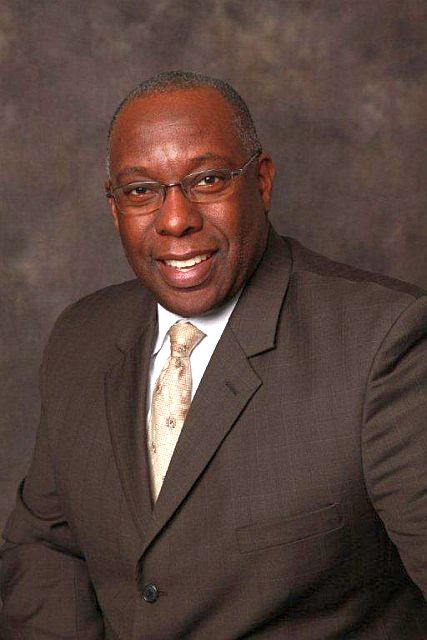 By Jay Whipple/Trend Magazine Online™


Mr. Melvin Tennant is the last of my follow-ups of travel industry professionals featured in my Trend Magazine Online™ 1993 edition. He officially assumed his new role as the President of the Charlotte Convention and Visitors Bureau on August 10, 1992, at the youthful age of 32 years old. I can clearly remember being astonished and somewhat shocked that a person of his age would be chosen to lead the Charlotte bureau, and even more difficult to process was the fact that he was an African-American. Keep in mind that Charlotte was back then -- and still is to a certain degree -- very conservative and traditionally operates under the good ole boy system that is prevalent in the southern United States. I can also remember some of the local Black professionals betting on how long he would last in such a high-profile position given the racial climate in the Queen City at that time. I would liken his selection to my favorite actor's -- Sidney Poitier -- dilemma in the now classic film In the Heat of the Night that also starred the late Rod Steiger in 1967. The film was later brought to network television from 1988-1994 starring the late Howard Rollins (A Soldier's Story) and Carroll O'Conner (Archie Bunker), both also my favorite thespians.

Before his selection in Charlotte the only other high profile African-American in the late 20th century had been Harvey Bernard Gantt who served as Mayor of the Queen City from 1983 to 1987. Note: The 19th Century is jammed packed with high-profile African-Americans in every level of government in North Carolina and throughout the southern United States. If you are not already aware of the period of Reconstruction also known as the "Golden Age for Blacks" then I strongly suggest that you contact your local legitimate Black/African I American Heritage Tour Company as soon as possible to schedule an educational trip. Mr. Tennant agrees that his hiring in Charlotte, NC, and subsequent challenge was a bit daunting in that he was now to oversee a budget that was twice the size of his former budget while running the Oakland California Convention and Visitors Bureau. According to Black Meetings and Tourism Magazine, his appointment there made him the first African-American bureau head in the United States in 1990. He was, however, prepared for that challenge as a direct result of his experience in other cities that had recently or were planning to build a new convention center like Houston, Texas, he stated.

Melvin, a Bryan Texas native, had little to no time to ponder his newest and greatest challenge to date as Charlotte was riding high on the crest and wave generated by the new NBA Charlotte Hornets and new coliseum in 1988. The Nation's Bank (Now Bank of America) tower was recently completed; the city was preparing for the NCAA Final Four in 1994, as well as posturing for another bid during the next NFL expansion in 1993. Charlotte lost their first bid to Tampa Bay – the Bucs – and Seattle – the Seahawks – in the early 1970's. The now deceased (2007) former Charlotte Mayor (1960's and 1970's) John Belk – Belk Department Stores – was behind that process. In addition, the former Guide to Black Charlotte was being reborn as Trend Magazine Online™ now Trend Magazine Online™.

I remember sitting in on a meeting at the old Renaissance Hotel building on North Tryon Street in Uptown Charlotte that introduced Mr. Tennant in 1992. He appeared to be un-daunted and un-phased about his new challenge in the Queen City. He and his team at the bureau went on to do great things for our city like lure the Lott Carey Convention and the Progressive National Baptist Convention in 1995 (President Clinton spoke), the NAACP Convention in 1996, as well as the Square Dancers Convention in 1998, and the National Black Baptist Convention in 2001 which is the largest convention in Charlotte history to date. For that I am truly appreciative because my tour company – Queen City Tours® – was able to supply area tours to each and every convention. I also remember being treated in a most respectful and humane manner when I had concerns about issues relating to business leads. Mr. Tennant would actually allow me to address him and his key staff members in an open and respectful forum to discuss the matters at hand with mutual respect.  In fact, I still have a very powerful complimentary letter that he wrote back in May of 1998. I have used that letter over and over again to obtain new business. Unfortunately, the current Charlotte administration has fallen way short of this level of professionalism. As such, I was very sad upon hearing of his untimely departure in 2003.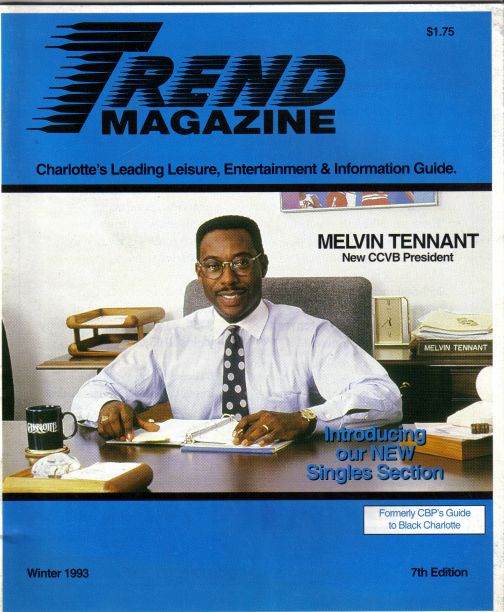 Today, Melvin, who holds a BS Degree in Managerial Studies from Rice University in Houston, Texas,  is still at it but in a different part of the country still doing his thing as the President and CEO of Meet Minneapolis. He was appointed in 2008 and oversees a staff of 50 associates/team members and a $9 million-dollar budget. His official duties and responsibilities include the executive management of his team as well as the official marketing of the city of Minneapolis, MN. In his position there he and his team have managed to keep his organization a float during these tough times by convincing local corporations like Target, Best Buy, and 3M, to hold their meetings in town as opposed to other cities. He has also directed his marketing team to beef up their local leisure marketing as well as continue to promote Minneapolis as a destination to their international markets like Scandinavia/Europe and Mexico which they offer non-stop flights. His immediate decision-making has resulted in repairing a sharp decline in hotel stays starting in the fall of 2008 (The official start of the current recession) to an upturn of approximately 12% today.

Mr. Tennant's favorite part of his job is when he actually gets to meet their customers face to face. He really enjoys personally being in front of customers as well as assisting his sales force in influencing groups to visit and/or hold their meetings and conventions in his city. On the flip side, he is not too keen on all of paperwork and administrative stuff that is required in his position as executive and chief but realizes that it is a necessary evil that comes with the job. When asked about the overall representation of African-Americans in management positions within the travel and tourism industry, he agrees with both Mike Gunn of Visit Birmingham and Dianne Brice of Visit Winston-Salem who would like to see far more representation. This is despite the fact as Melvin puts it that current and past African-Americans are and have done well in the industry and have indeed prospered; he goes a step further and states that there are many, many folks of color that should be considered for top level management positions within the industry that have earned the look. According to Black Meetings and Tourism Magazine (April/May 2009), there are nearly 500 CVB's throughout the U.S. and only seven are headed up by an African-American executive  to include Washington, DC; Detroit, MI; Jackson, MI; Macon, GA; and Minneapolis, MN (Tennant). That calculates into a parsley 1.4% representation while the nation is approximately 12.9% African-American. Source: US Census Bureau, 2009.

When asked about his physical fitness regimen which includes running/jogging, Melvin agrees that he does not run as much and as far as he used to in his 30's, but now in his early 50's he also enjoys hitting the gym. He is also ecstatic and very proud of his youngest daughter's (Melanie) eminent graduation from Prairie View A&M University -- in Prairie View, Texas – with a bachelor's degree in business management/marketing. This school is one of our remaining HBCU's (Historically Black College/University). He is also proud that she has served as an intern for the WNBA's Minnesota Lynx in sports management. Perhaps she may be the next Arli$$ Michaels; a sports super-agent TV show character from 1996 – 2002. Mr. Tennant is a Certified Association Executive which he obtained while in Charlotte from the American Society of Association Executives. It is a broad-based curriculum which needs to be updated every three years. He has also taken continuing education courses at Wake Forest University in Winston-Salem, North Carolina, and is currently working on a BA in Christian Leadership.

Although now firmly entrenched in Minneapolis, Melvin still holds fond memories of his time here in the Queen City; especially the fact that his youngest daughter (Melanie) grew up here and that they were around to see the inauguration of the NFL Carolina Panthers in 1993 and the new NBA Charlotte Bobcats (2003) now majority owned by Mr. Michael Jordan. Things got done fairly efficiently there, he stated, and he is very happy to have been a part of the process of introducing Charlotte to the national spotlight. "My experience there made it possible for me to do the things that I now do," says Tennant. And to demonstrate his true sportsmanship, he has no hard feelings about the DNC (Democratic National Convention) deciding to visit Charlotte over Minneapolis in early September 2012. We fought hard and gave it our best shot he said.




For additional information on visiting Minneapolis, MN click here.




<<<Back To June Edition

Join our email list or "Like" Us on Facebook! to be notified of updates!