I had plans to visit the then new
Disney EPCOT
attraction shortly after it opened in
October
of
1982
, however, I had just tied the knot the year before and my daughter was born five months prior. My cousin did get a chance to go and I remember him telling me that it was a very scientific experience. Well, it was not until recently that I finally decided to research the name of this
300-acre park
and it says it all --
Experimental Prototype Community Of Tomorrow
. That explains my cousin's comments years ago. I wonder if he knew that? My recent trip to
EPCOT
was purely coincidental in that I was redirected there from the
Magic Kingdom
to catch my hotel shuttle which was not scheduled to make a stop until
10:50 PM
that night. I arrived at
6:45 PM
which gave me just over four hours to fulfill a promise made
33 years ago
. So goes the saying better late than never.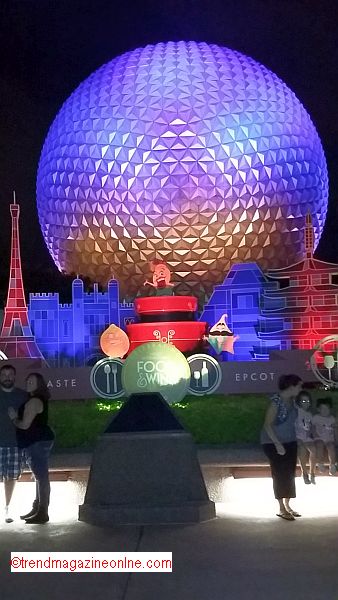 I caught the express
Monorail
from the
Magic Kingdom
which made a complete loop around the main entrance to
EPCOT
before coming to a stop at the main entrance near the iconic golf-ball-looking dome that I have been seeing on marketing and promotional materials, as well as
T.V.
commercials for over three decades. I was able to get an idea of what I would be seeing once inside the park during the loop around the main entrance. It was past sundown which made the spherical icon even more spectacular than I could ever imagine. It looked like a planet or a scene from one of those sci-fi
Saturday
feature movies that I grew up watching back in the
1960's
and
'70's
. I have since learned that there is actually a ride inside the dome which is called
Spaceship Earth
and is presented by
Siemens
. The ride explores the history of innovations from the
Stone Age
to the
Digital Age
.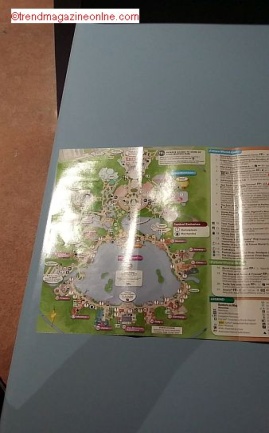 It was a short -- less than 10 minute -- wait to get into the park after clearing the security check point for guests with bags. It turns out that my security person's second
N.F.L.
team was also the
Carolina Panthers
-- like me. Her first team is the
New Orleans Saints
and mine of course is the
Miami Dolphins
. My first order of business once entering the park was to obtain a map so that I could plot my journey in the most efficient manner so as not to miss anything. It was as if the folks at
EPCOT
read my mind because located not too far from the main entrance was a rack of maps. This map was quite similar to the one at the
Magic Kingdom
as it displays a geographical layout of the park with the
Points Of Interest
(POI) numbered and labeled with a graphic. To the right is a list of those numbered
POI
categorized by sections such as
Future World East/West
,
Showcase Plaza
, and
World Showcase
. There is a brief description of each
POI
along with icons and symbols that are explained in the legend below like restroom, Baby Care Center, and attractions/show considerations.