It has been quite some time since we ventured overseas to feature a nice place to visit on a holiday - as they say in Europe - so when I came across this villa I thought it would be nice to introduce it to our readers. It was not long before I received a response to my inquiry for an interview with one of the principals of the
Villa di Greve
in
Chianti Italy
-
Mr. Giuliano Sottani
- who turns out is the former
Mayor
of
Chianti
and founder of
Hello Florence
. My typical concern with going overseas is whether or not I will be able to communicate with whomever concerning my requests, however, other than a few word translations this particular process was pretty much seamless. It also helped that
Giuliano
was more than eager to jump at this opportunity to tell the world about what he and his partners have been up to in that precious and romantic corner of our universe known as
Italy
. So, without further ado, I introduce to you
Mr. Giuliano Sottani
.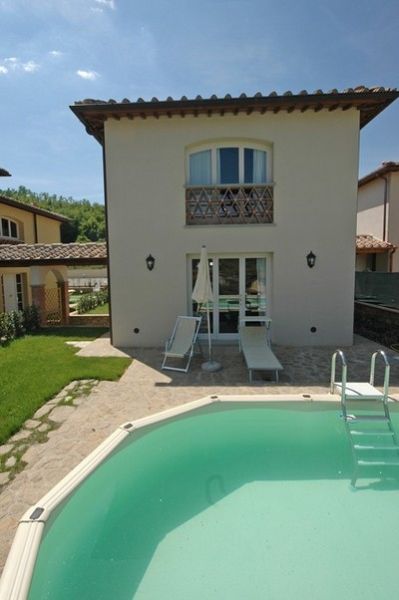 Jay - How long have you been with Hello Florence & Chianti?
Giuliano
-- I was the Mayor here in Chianti and after that I was the Florence Councilor for Tourism and Sportive Policies. During this activity I have the opportunity to evaluate the importance of Tourism for economy. The Tourism is creativity, imagination; warm welcoming and I wished to make the most of the Chianti area. I think this is an amazing territory, the
Garden of Europe
, all the area between Florence and Siena is one of the most fantastic countries in the world. For this reasons I established the HELLO FLORENCE & CHIANTI Incoming tour operator and travel agency. We offer our services to the visitors and moreover to the travel agencies all over the world.
Jay - How long have you been a general manager?
Giuliano
-- Since its establishment I have, 20 years ago. Last March we modified the Company, now we are 4 partners, equally shareholder.
Jay - What did you do before becoming a general manager?
Giuliano
-- I was a politician, during the last 8 years Councilor for Tourism at City Hall of Florence.
Jay -- What is your educational background?
Giuliano
-- My family has modest origins. My expertise derives from the experiences collected to attend the life's school

Jay -- What was your inspiration in going into this type of business?
Giuliano
-- The true love for my territory, the area that English call
Chiantishire
. My wish was the touristic development of the Chianti
Black Roster
production area: the country between Florence and Siena, very rich in Churches, Abbeys and Romanesque Churches, Castles, Villas and ancient Farms and more over vineyards, olive groves and woods that give us high quality of life and environment livable with regard to air, water and noise pollution.
Jay -- Where were you born?
Giuliano
-- I was born in Greve in Chianti.
Jay -- What is your native language and how many other languages do you speak?
Giuliano
-- My native language is Italian and also I speak little French and English.
Jay -- What do you like the most about your job?
Giuliano
-- The creativity: to arrange new projects i.e. wedding ceremony aimed at worldwide young couples, tours for honeymooners to visit the nicest Italian cities. I like to arrange the hospitality in the most beautiful Italian Villas, Castle and Farm holidays created by restoring and preserving old stone farmhouses. Newly I created wedding ceremony into vineyards and olive groves or in old cellars among ancient Rovere Slavonia oak barrels
Jay -- What do you like the least about your job?
Giuliano
-- I am not more a young man. I like my entire job. The tourism business is very exciting and I am satisfied every evening