This interview came about during my recent interview with
Dr. Dorothy J. Fields
of the
Lyric Theatre Miami
in our
April 2014 edition
. As was the case with her, these kind folks were eager to participate in our queries and very punctual with their responses. Growing up in
Miami
I passed
Vizcaya
many times on my way to the beach, zoo, and fishing; however, had no inkling of its rich history. I did get a chance to tour this marvelous facility/tourist attraction during our
Miami In May trip
back in
2002
. Unfortunately I do not remember all of the details of our trip but I do recall the professionalism of the staff during the booking process and the expert presentation of our female
Docent
. Here we are over a decade later and I had the esteem pleasure of interviewing the gentleman that currently runs this must see property.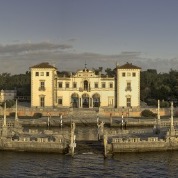 ″Dr. Joel M. Hoffman holds a Doctorate in Art History from Yale University and an undergraduate degree in English Literature from the University of Pennsylvania. He is the author of several publications on art and culture in the 19th and 20th centuries. Since 2011 he has served as a member of the Board of the American Alliance of Museums, the organization that accredits museums across the United States. Hoffman also participates as a member of the Miami Art Museums Alliance, which gathers the directors of the area ′s seven art museums to address issues of common interest and enhance the role of these institutions in the South Florida community″…

-- Source: Vizcaya Museum and Gardens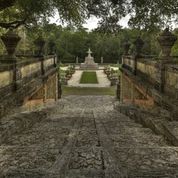 Jay -- Were you born in Miami, if no, where?
Dr. Hoffman
-- I was born in New York City, lived there until I was six, and then spent the rest of my childhood in northern New Jersey. During those years, I always enjoyed the excitement of visiting Manhattan, which was still very nearby. I attended college in Philadelphia, PA, graduate school in New Haven, CT, and I was fortunate enough to have the opportunity to study and live abroad in England and Italy during my university years.
Jay -- If not born in Miami, how long have you lived there?
Dr. Hoffman
-- I moved to Miami in 1994; after six years I returned to my native New York to oversee educational programming at the Brooklyn Museum of Art. Late in 2003, I returned to Miami to begin the position as Vizcaya ′s Executive Director. Not including my three years in New York, I have lived in Miami-Dade County, specifically as a resident of Miami Beach, for 17 years.
Jay -- Are you bi-lingual, if not, do you have plans to learn Spanish?
Dr. Hoffman
--
I have studied Spanish at various times in my life (from middle school through adulthood); I have varying degrees of proficiency in reading, comprehending and speaking Spanish. Vizcaya foreshadowed Miami′s internationalism early in its history, and it is invigorating to work somewhere that is so closely linked to the community in which it resides. I love living in a place with people from all around the world and working at a museum that expressed Miami′s internationalism early on; however, I don′t get as many opportunities as I′d like in my daily life to speak Spanish and that′s necessary to keep improving.