Review Archive/November 2013
Updated October 30, 2013


THE EVE OF JACKIE WILSON PLAY
Non-Stop High Energy Entertainment!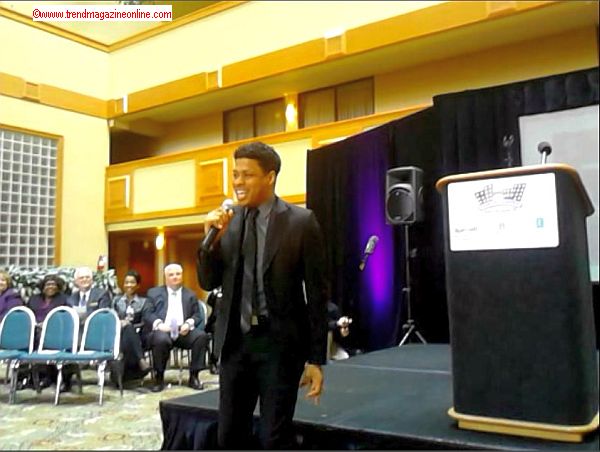 By Jay Whipple/Trend Magazine Online™


As I have stated previously, I have been eagerly anticipating this play/show since the NBTF's (National Black Theatre Festival) initial media conference on Monday March 11, 2013, and again on Monday June 3, 2013, where we were treated to a teaser of what to expect during the full Monty – sort of speaking – this past Wednesday July 31, 2013. This play/show is a special event originally conceived by Mr. Chester Gregory; under the direction of Da'Vine Joy Randolph and the musical direction of Mr. Rob Lewis. It was written by Ms. Crystal Lucas-Perry, Ms. Dawn Bless Mitchell, and Mr. Chester Gregory; and produced by Chess, Not Checkers, Inc. of New York, NY. The venue was the University Of North Carolina School of the Arts (UNCSA) Stevens Center located in the heart of downtown Winston-Salem, NC.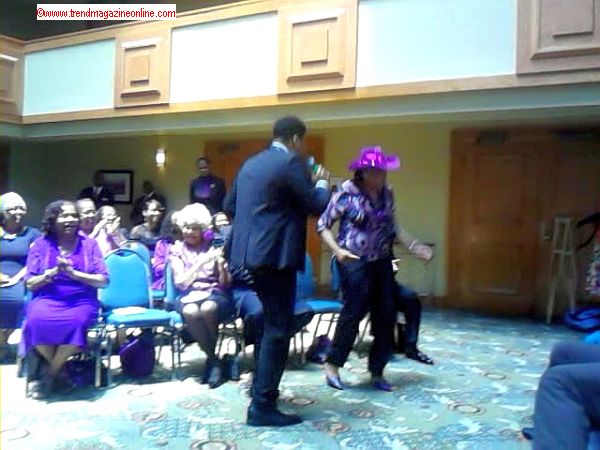 I arrived at the center at approximately 7 PM for the 8 PM play/show and there was a queue of equally eager theatre-goers and fans already lined up outside along South Main Street. I was all set to board the bus to the campus of UNCSA when I just happened to ask some folks outside the Marriott (Host hotel) who thankfully pointed me in the right direction to the downtown location instead.  Whew! While in line, I actually met some hometown folks from Winston-Salem; two Black and two white women. The doors were opened precisely at 7:30 PM and by that time the line had snaked around the block for this very popular and much anticipated play/show.
The center/theatre is quite expansive and includes balcony seating.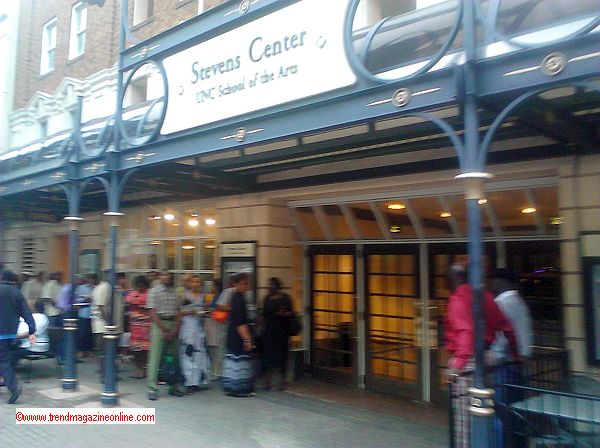 I sat in the 3rd row center so that I could get a bird's eye view of the entire performance. The house was approximately 90% full when this play/show began at around 8:10 PM. The band, which consisted of: A drummer (Mr. James Rouse, Music Director), bass guitar player (Mr. Brian Cockerham), lead guitar (Mr. Brad Williams), keyboardist (Mr. Andre Lewis), and tenor saxophone (Ms. Camille Thurman); where pretty decent. The tenor sax and piano players were a bit stiff, however, as if they were playing in a concert as opposed to a stage band. Note: I played in both as first trumpet. The sax solo, on the other hand, was pretty good. I was delighted that this play/show included a live band which added an air of authenticity to the subject matter at hand. There were also three backup singers: Mr. Kierre Bjorn, Ms. Tamelia Pankey, and Ms. Asia Toney, that blended and moved well with the show/play. I have put in several requests to interview these guys and hopefully my contact at the NBTF will come through with how to get in contact with them. If not, I will be forced to use my Dick Tracey detective skills to locate them on my own.
This play/show is based on a true event that took place on Sunday September 28, 1975, when the legendary soul singer Jackie Leroy Wilson (1934 – 1984) appeared live in concert with his band and back-up singers. During his performance he felt compelled to reveal another side of his personality by exposing his feelings about his personal life, accomplishments, mistakes, dreams, and career. At that time, he is not aware that that would be his last full performance as he collapsed on stage the next evening (Monday September 29, 1975) – as the result of a heart attack – hit his head on some stage equipment, fell into a coma, and later died on Saturday January, 21, 1984; 8 plus years later.
One of the highlights of this play/show was when Mr. Gregory came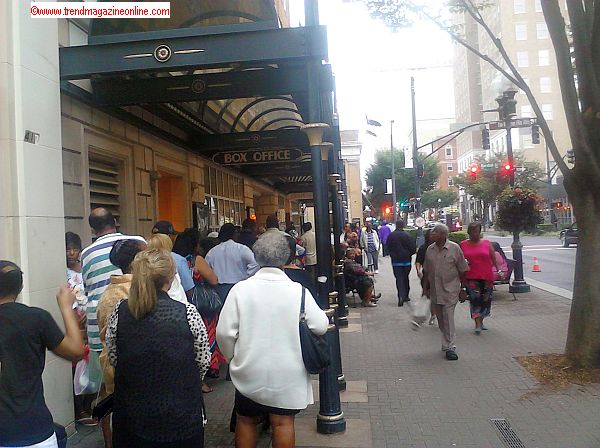 down into the audience, grabbed a woman, and they dirty danced on stage. Another memorable moment was his comedic interlude when he stated that Aaron/Elvis (Presley) told him he inspired him because he stole from Sonny/Jackie Wilson – who was a personal friend. I call those kinds of people "frienamies!" Smile! Chester also poked fun at Jackie's school report card that was not impressive at all. This play/show also included a duet with Ms. Tonya Pinkins (NBTF 2013 Celebrity Co-Chair) as Lavon. She wore a short Black semi-sparkly mini skirt with silver sparkly 3" heels. The vocals during this play/show were simply brilliant throughout and included a memorable solo – by Chester/Jackie -- with just the bass playing while he performed No Pity (1965).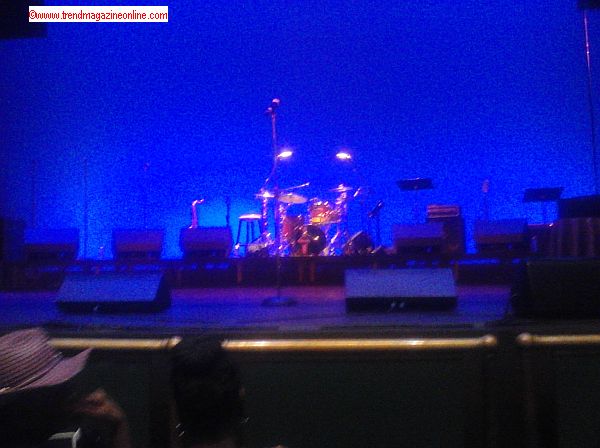 Mr. Gregory's performance also included a dedication to Jack, Jr. (1954 – 1970) – Jackie's late son, a bit where he was crooning and gyrating just for the ladies – who erupted with passion – as he stopped, drank some water (?), and began gyrating feverously again. He was getting ooohhhs and aaawes from both younger and older women as he begged on his knees -- rendering them weak in the knees. As this energetic play/show progressed so did Chester's interaction with the audience escalate and improve. His rendition of Jackie's "To be loved," was kool. That hit was re-recorded by Mr. Michael Henderson in 1979 and it is pretty kool as well. The play/show took a hilarious turn when the back-up singers hand-picked certain women from the audience who ended up bumping and grinding with Chester on stage. At one point, he did a split under an older woman's legs. The audience once again erupted in a fever of fervor.
Next up was the Camel Walk which was made even more famous by the late Mr. James Joseph Brown (1933 – 2006) and meticulously copied by Mr. Barzel McKenzie from my elementary school daze in Miami back in the late 1960's early 1970's. This dance dates back to the late 19th and early 20th Century Vaudeville shows and was mostly performed by college students. As the play/show began winding down, the mood shifted to a more serious Jackie as he (Chester) stated that he was "getting smart about the business of entertainment" and that he was "taking his manager to court because he was getting cheated out of his royalties." What else is new? He (Jackie/Chester) also stated that his manager would bribe him with silk ties; his big weakness, he said. Unfortunately, this type usury of artists is common practice – even today. In fact, it has been rumored that the members of New Edition received scooters and a few dollars for their first hit Candy Girl (1983). I majored in business and my advice to aspiring young artists is to always request cash as opposed to gifts as you can buy your own gifts with the cash, and more than likely have some cash left over for the future.
This serious segment of the hit play/show was a good transition into the next Jackie Wilson hit "Dogging Around (1960)." At this point, the climax was near as Chester hit 10 consecutive splits in a row while the audience once again erupted with applause -- like Mount Saint Helens. This play/show was high-energy from start to finish and this writer is still feeling the energy as he reminisces while writing this review. I was also impressed at the diverse audience that included both Black and white members jamming to "Your Love Keeps Lifting Me Higher and Higher (1967)." It was reminiscent of a good old-fashioned Southern Baptist church meeting -- that ended at approximately 9:52 PM; with no intermission. My walk back to the Marriott hotel was quite nice as I slowly cooled down in the natural air –outside – from this high-energy non-stop play/show. If this play/show returns in 2015, make sure that you get your tickets early because it will more than likely sell out!




<<<Back to November 2013 Monthly Reviews

<<<Back to November 2013 Edition

To Reviews Archive>>>

Join our email list or "Like" Us on Facebook! to be notified of updates!