It had been quite a spell since I have dined at a legitimate fish camp. I decided to visit this place after suggesting the same to the curator of the
Zimsculpt
exhibit at the nearby
Daniel Stowe Botanical Gardens
in
Belmont, NC
. He and his two artists were visiting from
Zimbabwe Africa
and I was there interviewing them for an upcoming article in
Trend Magazine Online™
. I first learned of fish camps back in the mid
1980's
when I moved here from eastern
North Carolina
where they are not as popular as turkey shoots. You can typically find them in small towns off the main highway in a remote area surrounded by trees with huge dirt and/or gravel parking lots. Friday nights are typically the most popular when patrons show up as families of six or more and the parking lot resembles that of a church convention.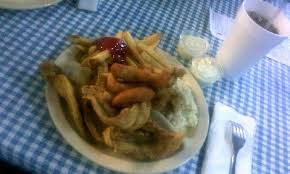 Before my first personal experience at a fish camp I envisioned folks sitting around a camp fire outside with the catch of the day skewered over the heat. I also pictured someone playing a harmonica while the folks joined in with a song everyone knows – except me. So, it took me a while before I decided to venture out one Friday night years ago to experience this North Carolina tradition. There are two menu items that you can bet are on every last fish camp's menu; fish and hushpuppies. If you are not familiar with the latter, hushpuppies are like fried cornbread usually rolled up in a ball or like a baby carrot. I eat mine with ketchup; however, most folks just eat them plain. The fish is typically the catch of the day and most camps typically offer my favorite flounder on their menus.
It was Friday night so I made sure that I wrapped up my interview at Daniel Stowe early enough to beat the typically Friday night family church convention crowd. Like most camps, as mentioned earlier, Twin Tops is located off the main highway leading from Belmont, NC. I still am very confused about the name as it sounds like another type erotic business if you know what I mean. This placed came highly recommended by the media contact guy at Daniel Stowe. Unlike most camps, it is not in a remote area nor does it have a huge parking lot. In fact, the parking was quite congested and somewhat difficult to maneuver your vehicle in and out. The convention crowd had already begun showing up just after 5 PM when I arrived. One customer sitting out front said that everything is good on the menu. I later found out that she may have been a bit biased as she was seeking employment. Smile!