I learned of this site back in
2011
from their signage on
I-85
while commuting from
Winston-Salem
,
NC
, to
Charlotte
to conduct tours for
Queen City Tours™
. My first instinct was that it was located in someone's backyard and that they may have had one or two tigers on display -- since I was quite familiar with the area and this place was not yet on my radar. Fast forward to
2018
and I came across a quite impressive full-color brochure at one of the area hotels and was quite impressed to see: 1. They were still around, and 2. There was a lot more to see than one or two tigers (per their site map). I then began plotting to schedule a visit on the right day -- weather permitting. That process took a few months but that perfect day fell on a
Saturday
in
July
when it was nice and sunny but not too hot. My drive was only
20 minutes
from where I was staying in nearby
Kannapolis
,
NC
, and once I turned onto
Cook Road
(off highway 152) I thought to myself -- hmmmmmmmm; maybe my instincts were right back in
2011
but hopefully not.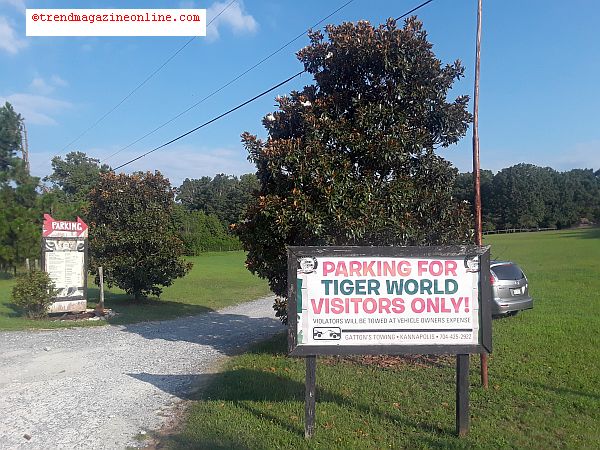 It was a narrow country road that included homes on both sides, leaving me to wonder if I was going to end up in someone's backyard. I then came across a wooden sign that directed me to the parking area which added to my aforementioned fears. I arrived at approximately 8:40 AM -- 20 minutes before their 9:00 AM opening time -- and counted less than a dozen cars in their lot which looked like it might be leading to someone's backyard. I rolled down my car window and was really convinced that I was headed into someone's backyard after hearing a dog bark and a rooster crowing. I was seriously considering exiting stage left when another vehicle arrived at 8:50 AM and two other vehicles strolled in before 9 AM. Those folks looked like actual tourist and not employees.