Our guide stated that the now world famous
Art Deco
area of
South Beach
extends from
1st
to
22nd
Street
(south to north), and that
Mr. Carl Fisher
(Fisher Island), an industrialist from
Indiana
(bet you can't say it fast 3 times), spearheaded the movement to convert
South Beach
into a playground for the rich and famous beginning in the roaring
1920's
. Two major setbacks followed beginning with the infamous
hurricane
of
1926
and the
stock market crash
in
1929
. Right about then -- believe it or not -- it began to rain seemingly on cue.
South Florida
is well known for a flash rain lasting for a few minutes and then, Walla, sunshine again! Our down pour began at
10:45 A.M
., we ran for shelter, and then it stopped.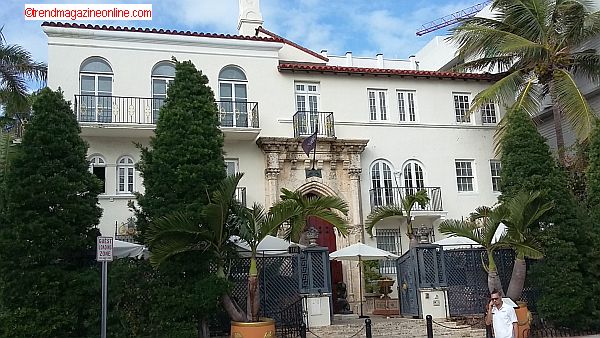 Our guide
Gina
continued with the
1930's
and the
New Deal U.S. government
headed up by former
President Franklin D. Roosevelt.
This phenomenon paved the way for workers to receive vacations and back then, she said, you could rent a hotel room here for just
$7
(US) per night. Today that won't cover the cost of the key card. Prohibition then ended, per our guide, and that opened the door for
Rum runners
from the
Bahamas
, the mob, and gambling to invade
South Beach
. We were then given our first lesson on local architecture beginning with the
Breakwater Hotel
at
940 Ocean Drive
which displays a nautical design influenced by ships. Next up was the old
Congress Hotel
at
1036 Ocean Drive
which was completed in
1936
and is now a store.
Gina then stated that the term Art Deco was conceived at an art exposition in Paris, France, in 1925, and adopted here in the early 1980's not too long after I graduated from Miami Beach Senior High School (1978) off Prairie Avenue and 23rd Street. She then pointed out that the buildings are typically white with porches like the old Congress Hotel where the older women used to sit and watch the traffic go by back in the 1970's. I took a summer job with the City of Miami Beach's maintenance department back during high school and our supervisor would make sure we began our work day with a trip up Ocean Drive (north) and ended with a trip down Ocean Drive (south). I wonder if he is still around today so that I can thank him for that memory?