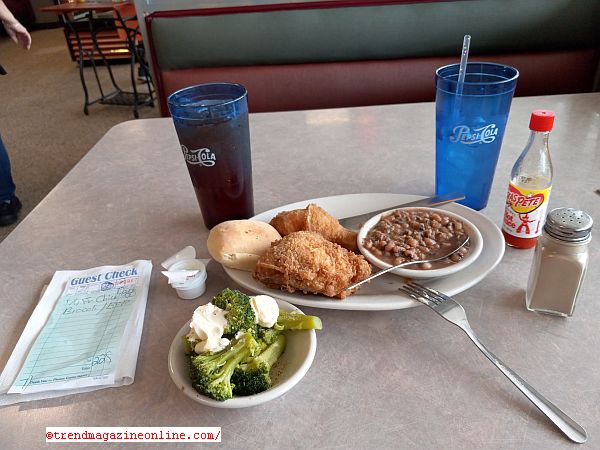 I had passed this eatery on many occasions while traveling back and forth from
Winston-Salem
,
Salisbury
, and
Kannapolis
,
NC
, while briefly living in those towns for business and while working the
QCT Charlotte NASCAR Shuttlesm
races in
May
and
September/October
. The restaurant gave me the vibe that it was an
old South Kountry diner
comprised mostly of family members as the staff. I have been dining at these type eateries from the
Coastal plains
to the
Piedmont
, to the
Mountain areas
of
North Carolina
dating back to the late
1970's
after arriving at
Ft. Bragg
,
NC
, adjacent to
Fayetteville
for military service. Some folks confuse
Southern Cuisine/Kountry Cooking
with
Soul Food
but there is a distinct difference in that the latter uses more fatty ingredients for seasoning and cooking.
I decided to finally place this diner on my calendar after moving into the
Concord
area for business this past spring (2022). I arrived around
1:30 PM
, just after the typical lunch crowd and found plenty of available parking just outside the building. I was acknowledged almost immediately upon entry by a very friendly host and was seated shortly afterwards. The restaurant was still quite crowded although the lunch hour had passed. The interior design was typical kountry-style with wooden tables and cushioned wooden chairs and booths. They played a variety of older and new-aged kountry music in the background which added to the ambience of my dining experience.
My server arrived a few minutes after I was seated and was also very friendly, and jovial. I ordered water and sweet tea to drink and the
Thursday Lunch Special
which was
Fried Chicken
(dark) with a vegetable (I chose broccoli) and starch (I chose black eyed peas). If you really want to test whether any restaurant is a bona fide
Kountry/Southern Cuisine
type; just order their fried chicken as an acid test. My meal totaled just
$9.95
, which I consider moderately priced, and I was served in exactly
20 minutes
as projected by my friendly server. All servers were uniformly dress with blue jeans and promotional t-shirts bearing the restaurant's name which made them easy to identify. Their sanitation code was
94
(out of 100) and the men's room was relatively clean.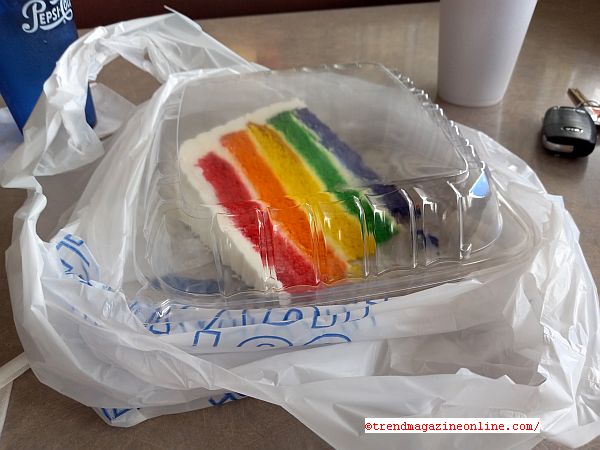 My broccoli was well prepared, soft but not mushy, firm enough to cut with a knife; very tasty, and it was nice that they had butter on hand. My black-eyed peas were just right and tender but not mushy, and well-seasoned. My biscuit was the same; crisp and flaky on the outside, soft, and tender on the inside, and having butter again came in handy. My main course, the fried chicken, was excellent and just like I like it; crispy and golden brown on the outside, and tender and tasty on the inside. In fact, I rate it in the top
1%
that I have had to date and better than any fast-food joint; to include
KFC
(Kentucky Fried Chicken; my favorite). My sweet tea was good but not what I call homemade; it tasted like the kind that you order by the jug in a syrupy form; and you just add water. Finally, my rainbow cake was oh so delicious! I rarely order desert/sweets with my meal, but I could not resist the colorful presentation of this one.
Their location is a bit obscure in that it is only accessible going south on
Concord Parkway
but is well worth the U-turn if headed north.
The Parkway House Family Restaurant
is located at
3770 Concord Parkway South
,
Concord
,
NC
28027
. Their phone number is
(704) 788-3002
and website address is
https://www.facebook.com/Parkway-House-Family-Restaurant-on-29-100878923289532/
. Tell them that
Trend Magazine Onlinetm
sent you! I'll be back!