This interview arose out of a statement made by
Mr. William D. Talbert, III
during our
March 2014 edition
of
Trend Magazine Online™
. His statement concerning the renaissance and reopening of the historic Lyric Theater in
Overtown Miami
was the spark that ignited my interest in following up with this particular interview. During my search for additional information on this historic theater; one name kept coming up --
Dr. Dorothy J. Fields, PhD
. My next challenge was of course finding out how to get in touch with this maverick of
Black/African-American history
. My additional researches lead me to an organization called
The Black Archives History and Research Foundation of South Florida, Inc
. One email to this fine organization netted me a prompt response from the woman herself --
Mrs. Black history!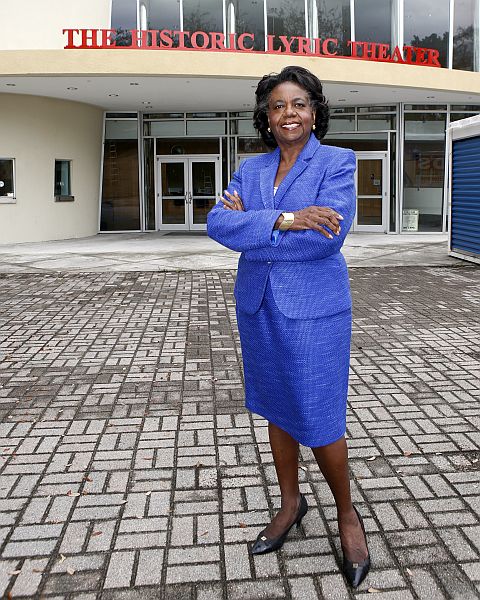 Photo Credit: David I. Muir
Dr. Fields
was keen to the idea of an online interview from the start and eager to assist me in learning more about her life in conjunction with the historic
Lyric Theater Miami
which she personally saved from the wrecking ball years ago. During the interview process I learned that we have a number of parallels between the two of us. She is a person that believes in the principle of
″If it is to be it is up to me,″
which prompted both of us to start something that had not already existed. In her case it was to start the process of documenting
Miami′s Black history
after a statement made by a local librarian that
″Those people have not thought enough of themselves to write their history,″
in
1976
(Our Bicentennial). In my case it was an attendance at an exhibit at the old
Charlotte Museum of History
-- in the early 1990′s -- called
Balance of Power
that blessed me with the idea of
Charlotte, North Carolina′s
first
Black/African-American Heritage Tour™
. In addition, we also both have a heritage that connects us with the
Bahamas
and my hero
Mr. Sydney ″Mr. Tibbs″ Poitier
. Finally, we were both born in the
Magic City
a.k.a.
Miami, FL.
Here is what
Dr. Fields
had to say about her and their venue...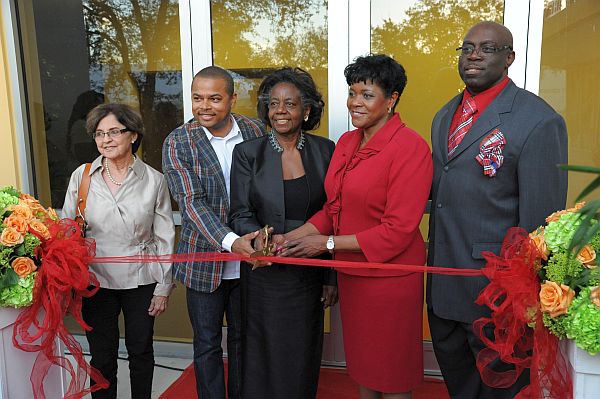 Thurs., Feb. 6, 2014
Ribbon Cutting -
Left to right:
Architect, Sylvia Jorrin; City of Miami, District 5, Keon Hardemon; Founder, Black Archives/Lyric Theater, Dr. Dorothy Jenkins Fields; Miami-Dade County Commissioner, District 3, Audrey Edmonson; Executive Director, Black Archives/Lyric Theater, Timothy A. Barber
Jay -- What was it like growing up in Miami during segregation?
Dr. Fields
-- Motivating. During the first half of the
20th century
there were black businesses, religious and educational leaders living in
Miami′s
black neighborhoods including
Coconut Grove
,
Lemon City
and
Seminola
with goal-oriented behavior. Some were entrepreneurs. Despite the obstacle of segregation, more specifically
Jim Crow
, they developed in
Colored Town
now known as
Overtown
a self contained community with the goods and services needed. There were black owned hotels, grocery stores, theater, hospital, fish markets, service stations, shoe maker, tailors, newspapers, seamstresses, barber shops, beauticians and churches as well as the services of dentists, medical doctors and lawyers. Residents as far south as
Key West
and north as
West Palm Beach
traveled to
Overtown
every two weeks for goods, services and entertainment. Still, as a result of segregation there were sever limitations.
Nevertheless, I was motivated witnessing the entrepreneurs′ investment of time, energy and resources. They led by example.
Overtown
also became a winter destination for black entertainers, academics, sports figures and other celebrities. We would see
Jackie Robinson
,
Thurgood Marshall
,
Nat King Cole
,
Billie Holiday
,
Ella Fitzgerald
and others in
Jet
and
Ebony
magazines during the week and on walking down
Northwest Second Avenue
on the week-end. It was an inspiring time growing up in
Miami
; still, as a result of segregation there were severe limitations.