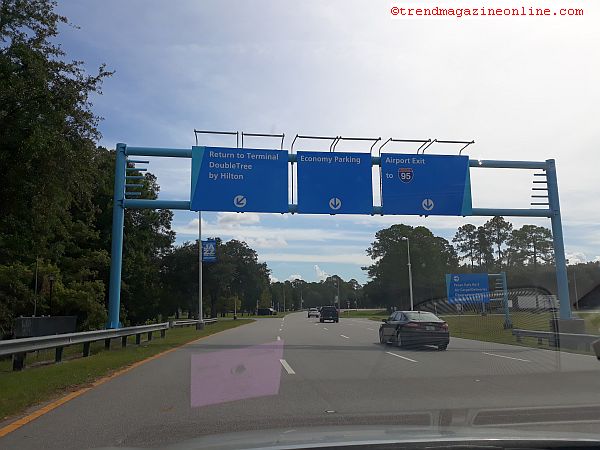 I arrived at this property at approximately
8:20 PM
on a
Sunday
after a very educational and entertaining venture to the
Kennedy Space Center in Titusville, Florida
, located just south of this portion of this very long state. I must admit that I have been through this largest city in what is called the
Lower 48
of the (contiguous)
United States
-- at
840 square miles
- and have never spent a night. I stopped through once years ago and went to its famous beach but kept getting up the highway afterwards. All the other times I would either stop before or after for fuel but not in the city as it always appeared very busy and congested and there used to be a litany of toll bridges that I found extremely annoying especially when I had to make sure that I had a bunch of quarters handy.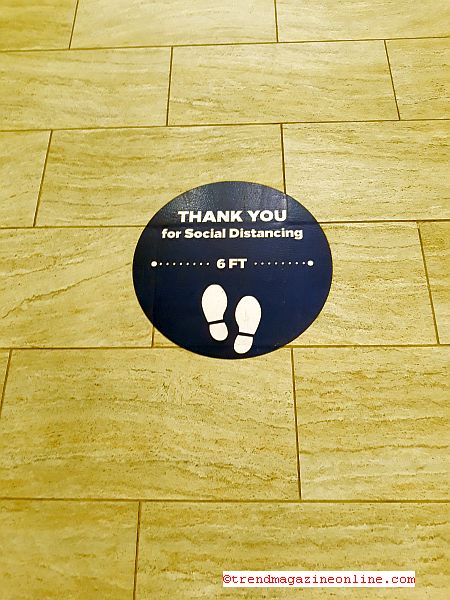 Today there is this new outer loop
Interstate 295
that allows you to bypass the dreaded
I-95
that passes through the center of the city. My
GPS
tells me that it is faster, but it does not seem to be that way when I am driving around it seemingly for an hour or awhile. Anyway, I finally arrived at my airport exit and was looking forward to finally arriving at my hotel when boom, bam, zing; I whizzed right past the
DoubleTree
sign that came and went in a flash. It is plainly marked but the turn itself is so narrow that it is very easy to miss, especially at night. I then had to drive around in a great big circle until I arrived back at the same turn off as what seemed to be an eternity after a long road trip originating from the other end of the
State
in
Miami
.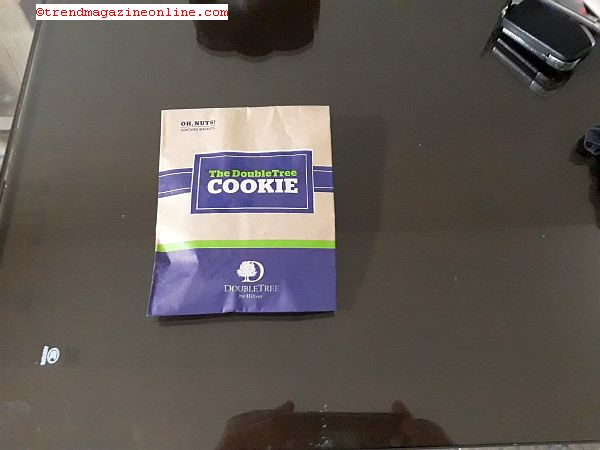 After finally arriving at the hotel, I was looking forward to a speedy check in which was made possible by a very short line at the front desk. My experience was made more pleasurable by the front desk clerk who asked if I wanted a lower floor and handed me a fresh baked cookie after my check in process. It may not seem like much, but that cookie made my day after a long trip. In addition, that very nice clerk complemented my stay with a parking pass after learning that I was a military
Veteran
. I was also impressed that this property was practicing proper protocols to stop the spread of
COVID-19
(Coronavirus). As a retired military veteran, we were trained to not remove our protective gear until the
all-clear signal
was given during
Chemical
and
Biological
warfare training. One thing I did not like during the check in process was the
$25 refundable fee
added to my bill because I used a third-party site to book my room.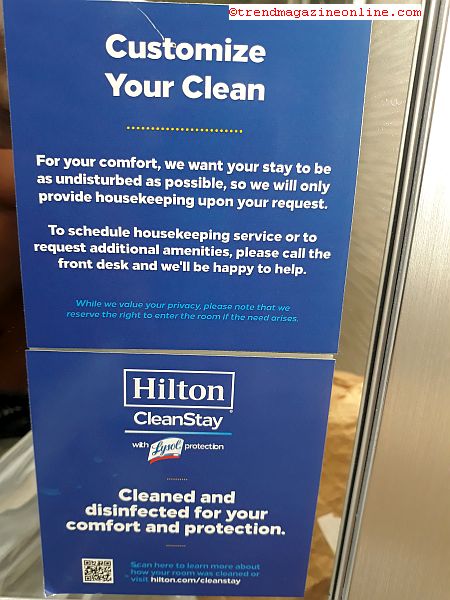 Next, it was finally up to my room after a long day driving and touring the
Kennedy Space Center
. I ended up on the second floor, so I did not have far to travel on the elevator especially with my baggage on other travel items. I really appreciate it when the property management thinks enough of their guests to place a
"Do Not Disturb"
sign on the room door that gives us the option of enjoying a late wake up after a long day of travel. Believe it or not I have stayed at
some properties
where management was so selfish that they put their needs above that of their paying guests and not provided any signs that allow sleep ins without disturbances from housekeepers and their uninvited early morning knocks.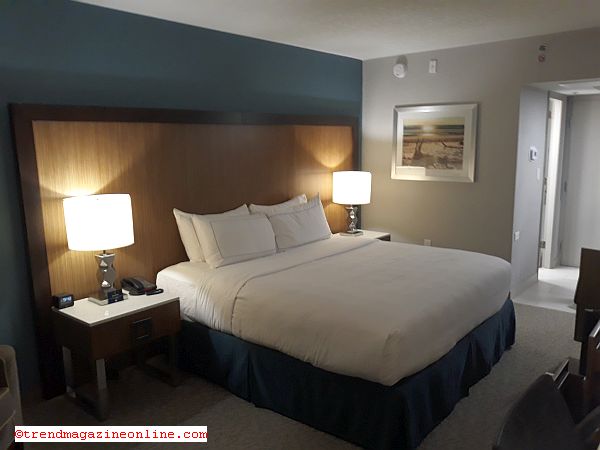 Anyway, the room was very clean, and the queen-sized bed looked and felt very inviting, but I had to resist the temptation because I had to make a late-night run for food and beverages for the night and next day of traveling. They provided a very small refrigerator but no plastic cups or a microwave in my room. I found out a little bit later that there was one downstairs near the check in desk which I found very inconvenient. In addition, one lamp did not work but the bulb was good, the
A/C unit
was rather loud and too cold (I increased the temperature from 66 to 72 degrees), and the shower door did not close all the way.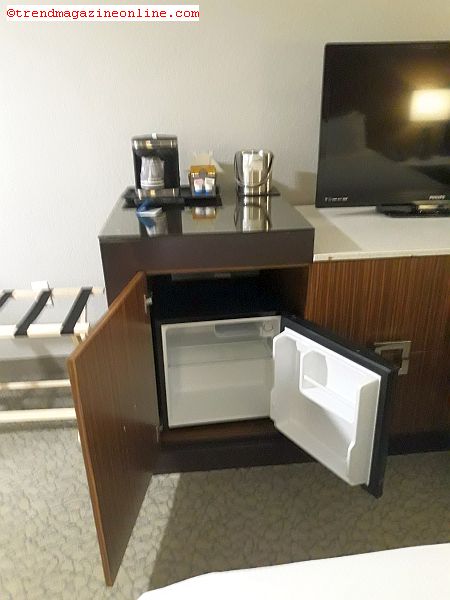 After my initial room inspection, it was time to make my run for food supplies as I learned driving in that there were not any eateries within walking distance especially at night. The closest restaurant was
.4 of a miles away
which is not bad for daytime walking. I decided to head on over to the nearest
Wal-Mart
grocery store which was
5.6 miles
away and about a
10-minute
drive. After returning from my late-night supply run, I got a chance to chat a bit with a different front desk person while my meal was heating up in the one microwave for the entire property.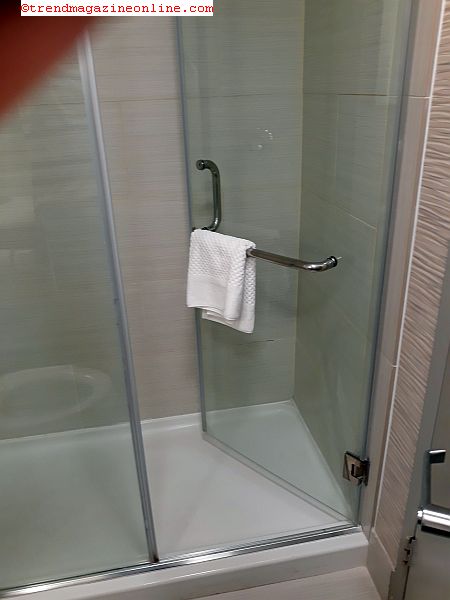 I learned that we were located on the non-busy side of the airport which explained why I did not hear any planes flying over. The clerk said that there was an
Air National Guard
base nearby and they occasional fly over on training missions. I also discovered what they consider their business area which came complete with two personal computers that log you off after
15 minutes
, so I found out the next morning after check-out time (11 AM) when checking my email. That front desk person was very nice and helpful as well.
All in all this was a good stay in particular because of the great customer service provided by the check in and check out front desk clerks. I did not get a chance to enjoy the outdoor amenities that include an inviting pool, courtyard, and small lake. Perhaps on my next stay!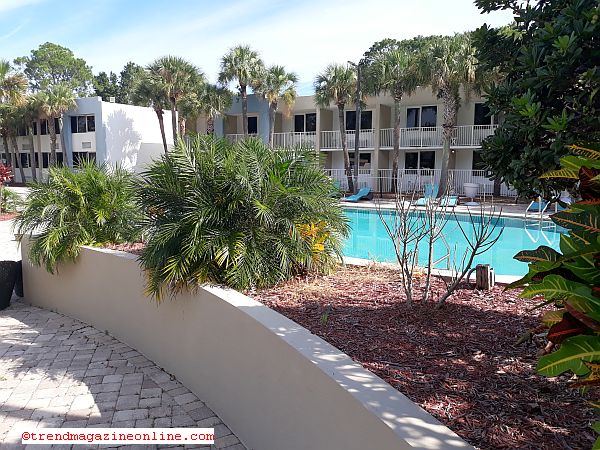 The
DoubleTree Hotel Jacksonville Airport
is located at
2101 Dixie Clipper Dr.
,
Jacksonville
,
FL
32218
. Their telephone number is
and
website is here
. Tell them that
Trend Magazine Onlinetm
sent you!