This review represents a first for our magazine since we began publishing in
1991
,
30 years ago
. Our goal up until now has been to provide our readers with positive content on an eclectic array of people, places, and things related to entertainment, travel, and leisure around the globe. On that note, this is my first published negative review for
Trend Magazine Onlinetm
which concerns a long-term stay property that has a really catchy brand name
Affordable Corporate Suites
. Unfortunately, my stay was filled with a plethora of negative events so much so that we decided to share that experience with our readers in hopes that this property will change the manner in which they handle valid complaints from loyal guests. Prior to deciding to publish this detailed negative review I made multiple attempts in writing (for over a year) with
Onsite Management
, the owner, as well as several third-party organizations that protect consumers from fraud and poor services to rectify the many issues arising out of my extended stay.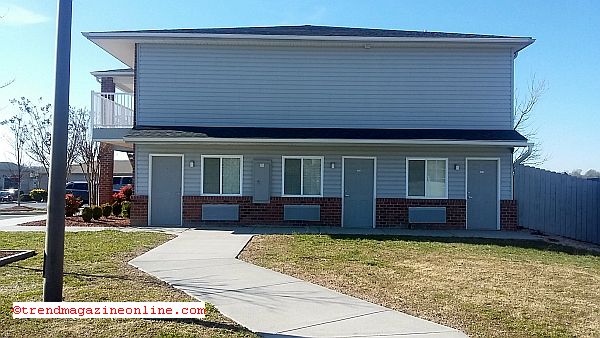 I included written, audio, and video evidence to support my claims and to my surprise the owner not only chose to ignore them all but attacked me and my credibility to include making multiple false claims and using strong language like "
they could have tossed me out of their property"
and questioning why I chose to stay. I also pointed out the double standards that they allowed for certain guests. This was not the first negative travel experience that I have had and probably will not be the last. This is, however, the first time that I was attacked after providing valuable feedback to a site whose tradename (Affordable Corporate Suites) is in stark contrast to their services rendered. As such, all of the evidence presented to management, the owner, as well as third party consumer protection organizations will be included in this detailed review.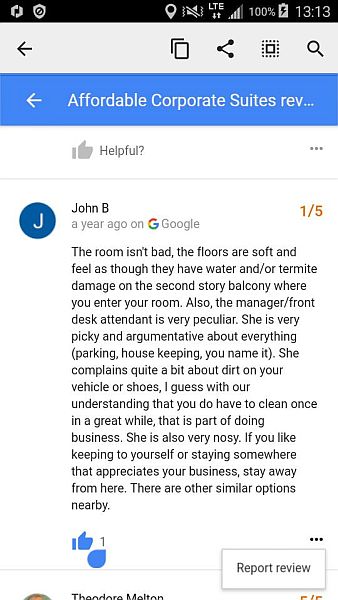 I was traveling back and forth from
South Florida
to the
Charlotte
,
NC
, area and decided that an extended stay property would be a lot more economical than a traditional hotel or motel that charges by the day as opposed to the week. An apartment was out of the question because most do not offer short-term rentals at an economical rate. Most prefer one-year written leases. In addition, these type properties are equipped with kitchenettes that allow guests to store and cook meals saving quite a bit on dining out daily. After performing an
Internet
search in the
Charlotte
,
NC
, area I decided on the off brand with the catchy name
Affordable Corporate Suites
which gave me the impression that it was a small corporate organization that catered to business and professional types like myself. The name also suggests that their rates were not jacked up to pay for the marketing associated with more well-known
Extended Stay
brands. I checked out their online reviews (later finding out that some were fake 5-stars) and they seemed okay except there were a few that complained about the unprofessionalism of management (red flag). I then decided to fire off an email inquiry to see what type of response they would provide. They responded very promptly, and their response was very professional, i.e., no spelling or grammatical errors.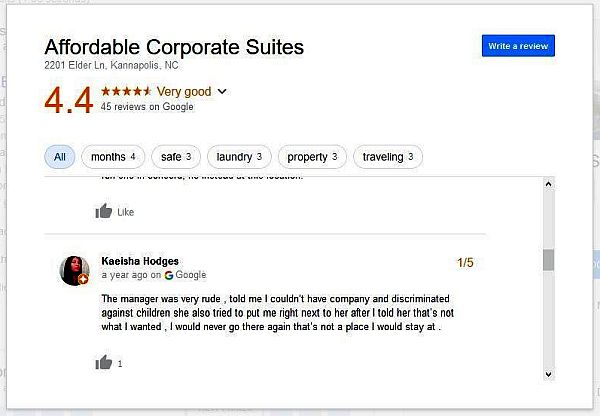 I then checked their locations in
Concord
,
NC
, and
Kannapolis
, and decided that the former would work better because it was closer to the
Charlotte Motor Speedway
where we work the races in
May
and
September/October
. They furnished a great rate on a studio unit but stated that none were available at either location for my move in date, but the
Kannapolis
property would more than likely become available sooner. Based on that information I decided to move in there as it was only about
10 miles
from the
Concord
location. Also, that location was surrounded by restaurants, retail stores, convenience stores, auto shops, and even a
Super Wal-Mart
, all within walking distance.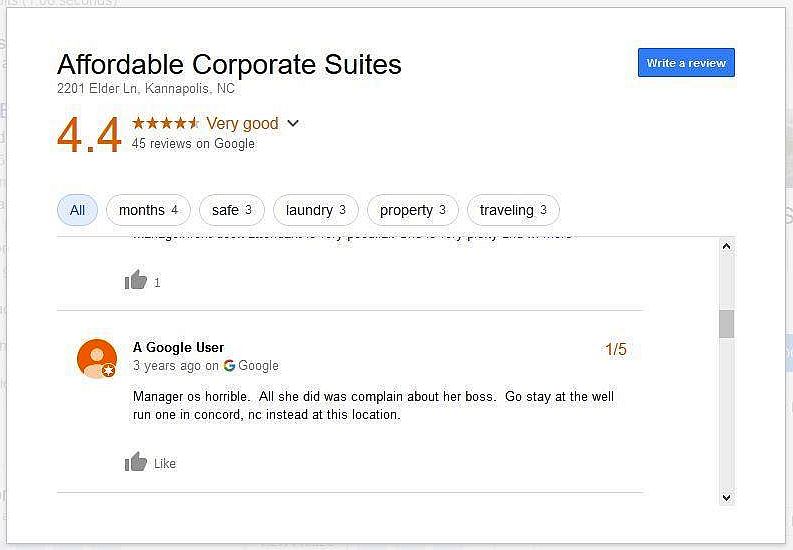 I moved in on the date promised, paid the deposit and first week's rent on their standard suite which includes a bedroom. The room was immaculate, and all appliances worked to include the microwave and
Wi-Fi
. I was quite impressed but looked forward to stepping down to their studio unit, which is
$50 less per week
, approximately
$217 less per month
, and approximately
$2,600 less per year
. Yes, I did the math! All was going well until the
Manager from Hell
flipped personalities (like Jekyll and Hyde) shortly after my move in and collecting my money and earning her bonus (per her statement). She started out by directing me to park my minivan in a particular spot that I was not happy about because it was next to work vans that were covered in mud, dented, and had construction equipment attached. I checked their policies and no where did it stipulate assigned parking. I kindly informed her that I was not comfortable parking where she
"ordered me to park"
and that I did not see that in their policies. In hindsight, I now realize that she was that nosey, very vindictive, multi-personality, site manager who was the subject of those bad online reviews mentioned above.