By Jay Whipple
Trend Magazine Online™
5-Star Experience!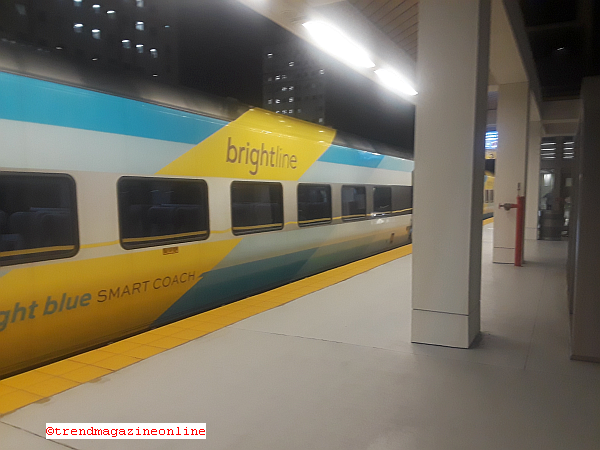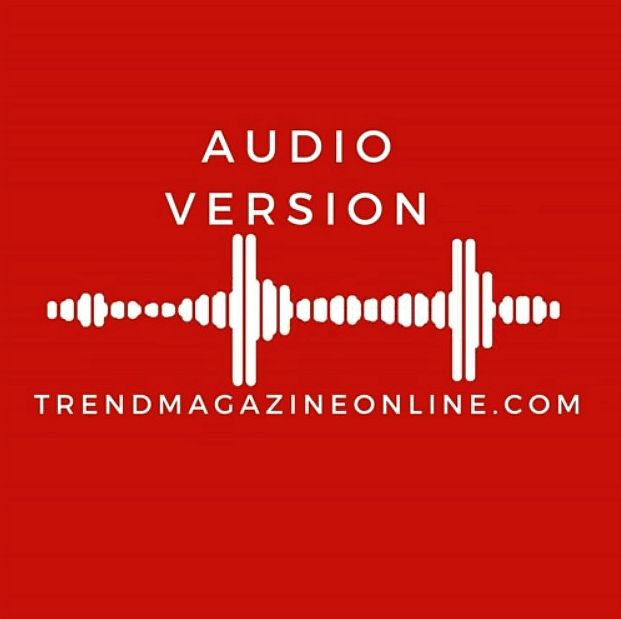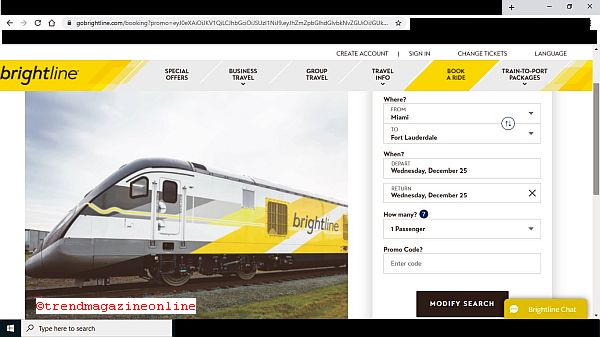 I had plans to ride this bullet train ever since it was announced in the news back in
2018
. There was some controversy over how some of the local neighbors were treated during construction in the
Overtown
section of
Downtown Miami
which is now a historic community that was once a thriving area for
Blacks/African-Americans
.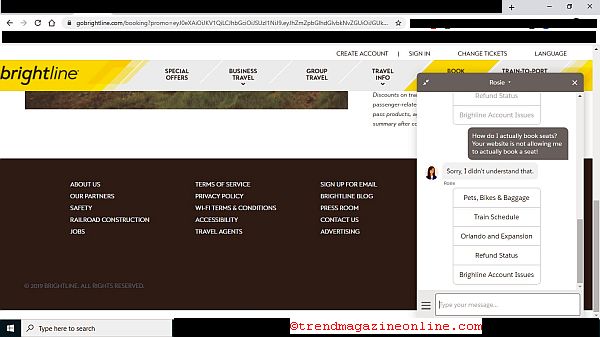 Parts of that area was also raised beginning in the
early 1960's
to make room for the construction of
Interstates 95
, and
395/836
(also known as the Dolphin Freeway). These low-income areas (also known as inner cities) are typically targeted for this type of construction because they represent the path of least resistance for developers. The end result is usually a more appealing and economically viable area but at the expense of the lower income folks that have been displaced and most do not get their fair share of the new development due to the sheer greed of the power structure.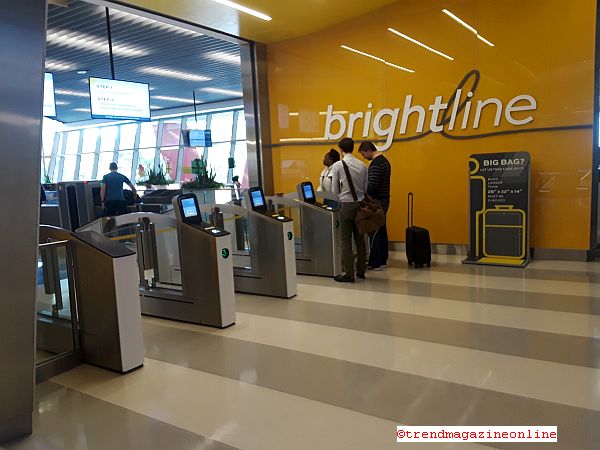 I decided to ride this train to
Ft. Lauderdale
to partake in one of my holiday traditions which is to visit the beach on
Christmas day
and post a vid on the
Internet
to make my colleagues in the north jealous of our Florida winter weather. I visited their new website and found it very difficult to book my seat on my own but eventually got it done with assistance from their help desk.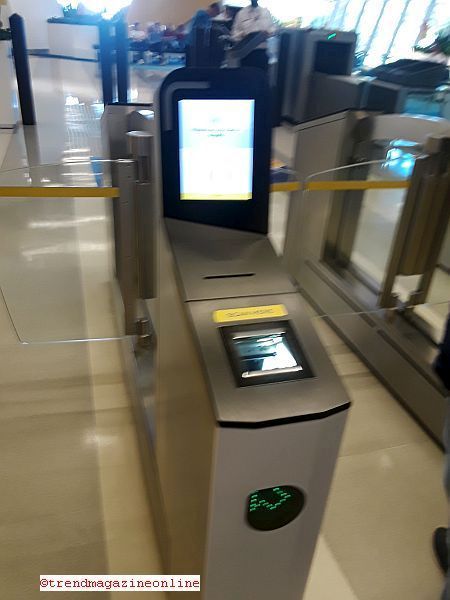 It was worth the extra effort because they gave me a free round-trip ticket (worth $30) for being a first-time rider. I had to pay
$5 each way
; however, to bring my bicycle which I use to get around once at the beach and for much needed exercise. I caught the
Metrorail
from near my home at the
MLK
(Dr. Martin Luther King, Jr.)
Station
, got off at the
Overtown
station and walked a short distance to the
Brightline
station.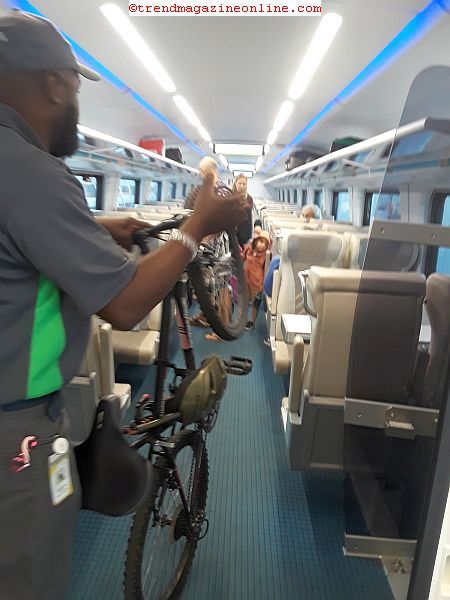 Their lobby area was very nice and clean and futuristic looking. I did; however, experience a problem with getting their kiosk to recognize my digital ticket but one of their friendly associates was there to swipe me through the gate and security. Once I arrived at the train there was another very friendly and helpful employee that took my bike and wheeled it on the train.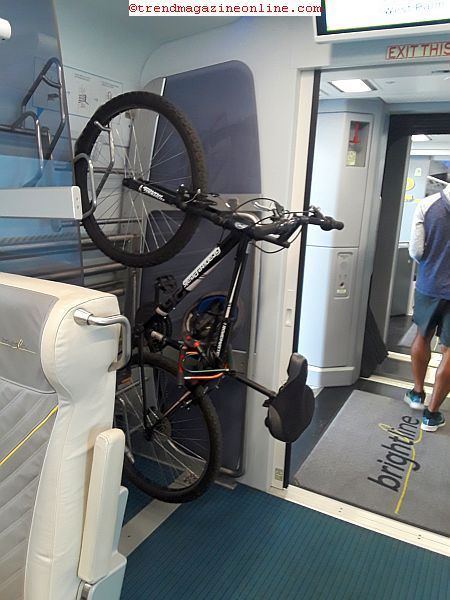 It gets even better in that they have the bike racks in plain sight near the entrance/exit doors so that I could see my prized possession throughout my entire journey to
Ft. Lauderdale
which lasted right at
30 minutes
as advertised.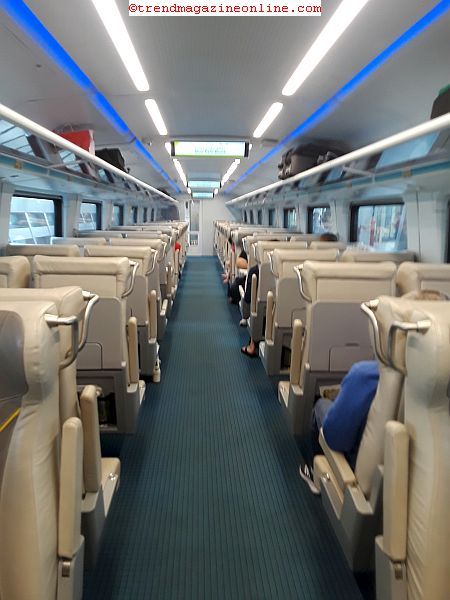 The aisle on my train was wide enough for two normal sized riders to pass which makes a difference during travel in case someone needs to use the restroom while another is returning at the same time. It can also come in handy during boarding or departure when one party is securing their baggage in the racks above the seats and the other is moving towards their seat(s). As such, it appears that the engineers of this train were very acute in their design of the aisles to account for each of these different scenarios.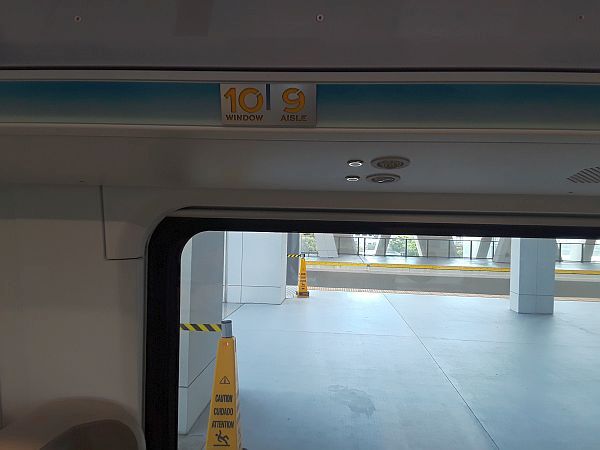 I also like the fact that they labeled the window and aisle numbers in a conspicuous location just above the outer seat where most riders would naturally look. In addition, the numbers were large enough to read with or without my glasses.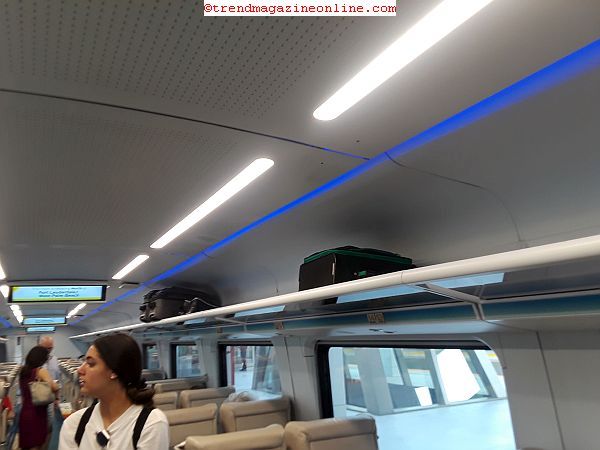 The baggage area above the seats is also a nice convenient addition to this train for those that are traveling to/from the airport, their hotel, or business or leisure travelers like myself; and is similar to
Amtrak
.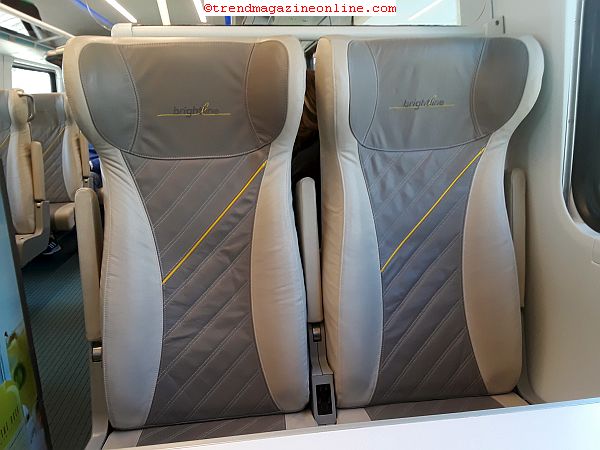 The seats, however, are much nicer than
Amtrak's
in that they are designed more so for an individual's comfort with a high back area, and they are made of a very comfortable material and are extremely attractive in appearance like a
Captain's Chair
. My seat came complete with a table with a built in, collapsible, port array for the charging of mobile devices via
A/C
or
USB
cords.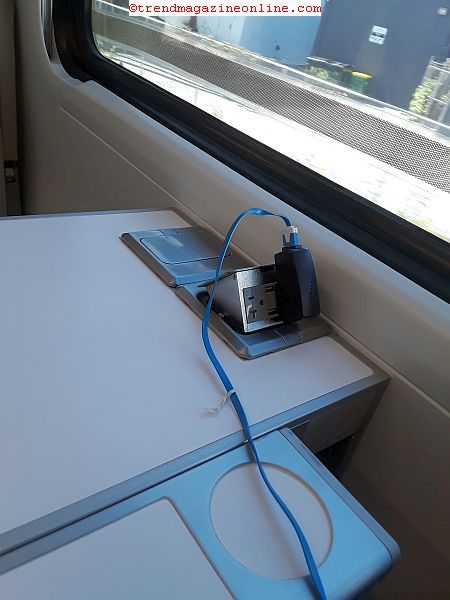 Some trains/buses have one or the other which is not nearly as convenient. And the really kool thing about this new train is that the ports actually worked as opposed to some of the older ground transportation vehicles that I have traveled on in the past. I personally have learned through experience to travel with my own portable charger in the unfortunate event that the vehicle's charging ports are not operational.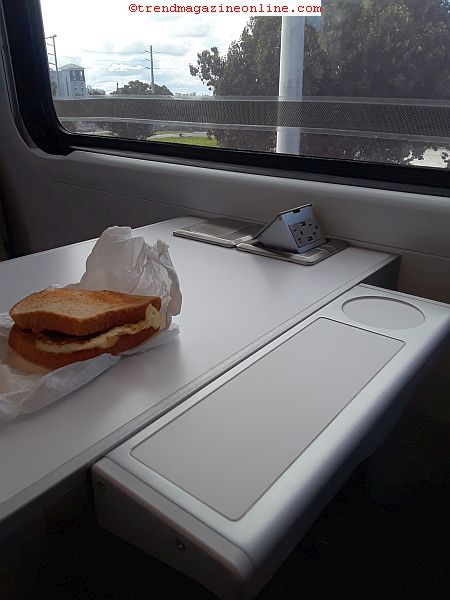 Another amenity that I enjoyed during my inaugural trip aboard the
Brightline
bullet train is the extension that pulls out from under the table that can be used for a number of purposes. For example, if you brought a full meal with a drink there is enough room to spread your consumables out in front of you to include your drink. I chose to bring only a small breakfast sandwich which did not require use of the table extension.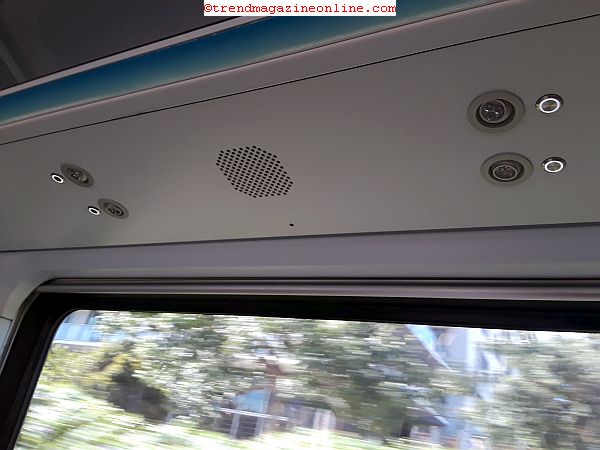 Above each seat is an array of niceties that provide extra comfort and convenience during the trip to include personal lighting, temperature vents, and a speaker just like on airplanes, some motor coaches, and
Amtrak
.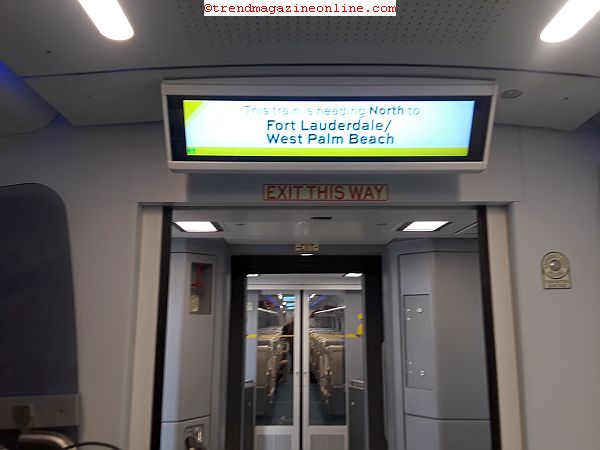 One unique feature aboard this train is a large display above the entry/exit area that informs you as to the direction and location of your journey. That signage is especially important for first time travelers not familiar with the trains and for those of us who may not be paying close attention to where we are going or ending up due to distractions or just following the crowd. I cannot count the number of times that I have ended up on the wrong
Metrorail
train since their inception in
1984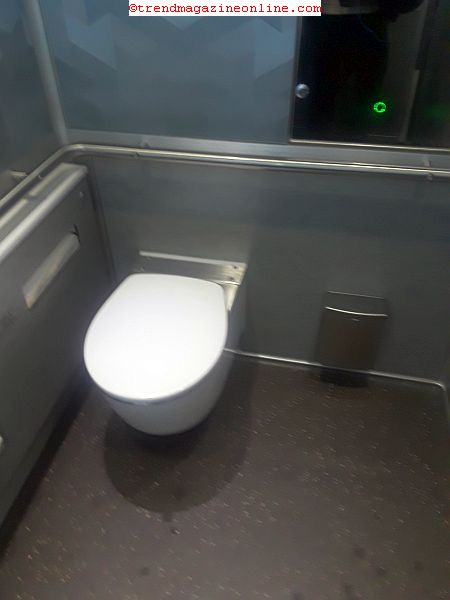 Most folks: me included, are terrified about having to use the toilet on a public transportation vehicle or in any public facility simply because of the plethora of humans who lack proper etiquette when it comes to the phenomenon of relieving oneself of waste and the aftermath. Those of us that are properly trained know to keep the area clean before and after the duty while others leave a disgusting mess.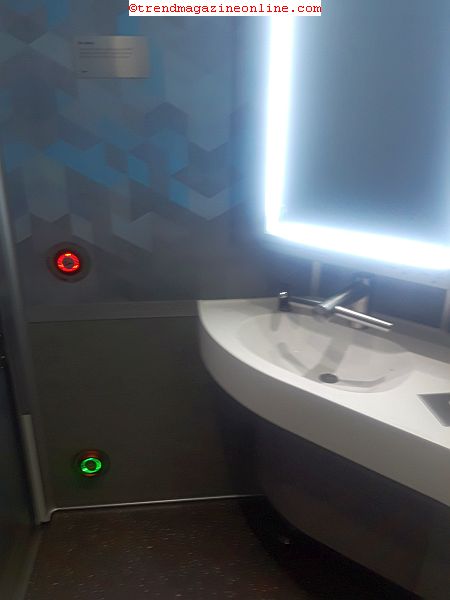 On that note, I was pleased to find the toilet in near pristine condition which can be attributed to the previous users or the train's staff.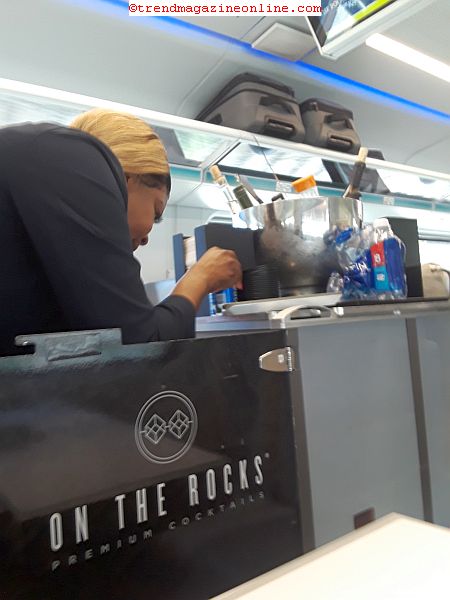 After that very pleasant experience I headed back to my
Captain's Chair
seat and was quite surprised when a young lady pushing a beverage cart stopped and asked if I wanted a refreshment.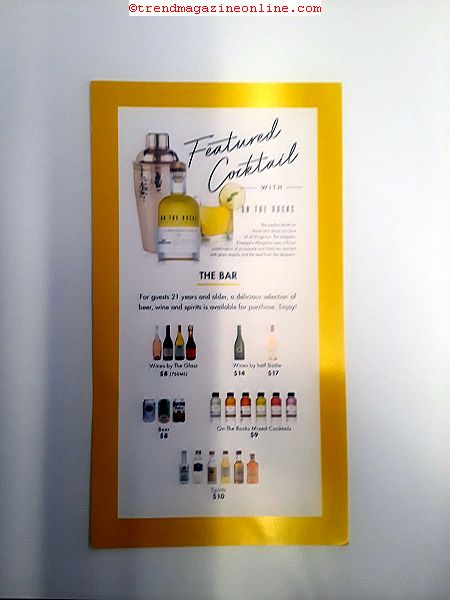 The idea of someone serving me refreshments on a somewhat regional train was very inviting until I was given a price list! They wanted
$8
for a glass of wine or can of beer. Wow! I thought; I can get a whole six pack for that price. So, I passed on that deal and decided to wait until I arrived in the
Ft. Lauderdale Beach
area. Their pricing was similar to what the airlines and
Amtrak
would charge -- the difference is the distance and timing of the trip.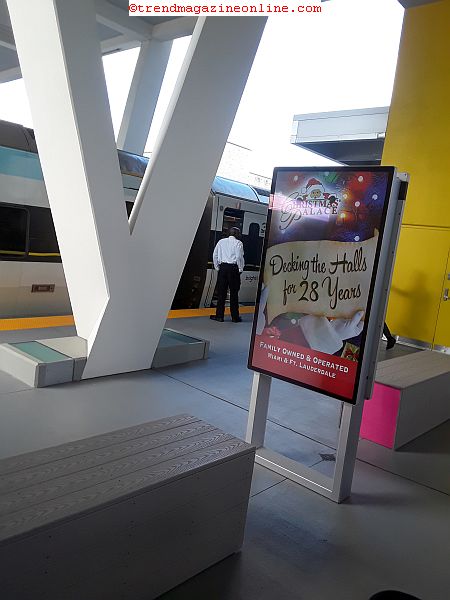 A short distance means that I can wait to save a few bucks ($dollars$).
Smile!
Speaking of which, it was now time for me to deboard this wonderful bullet train with a top speed of
125 miles per hour
, and head to the beach! There is nothing like holiday signage to get you in the mood for the
Christmas
season as displayed on my exit from the station.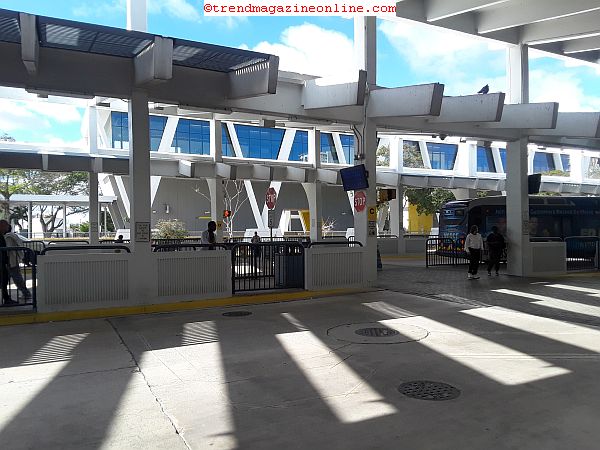 Another kool thing about this train station is that it is just across the street from the main city bus depot for
Ft. Lauderdale
. So, it was a matter of unloading and then loading my trusty bike on my bus and on to da beach!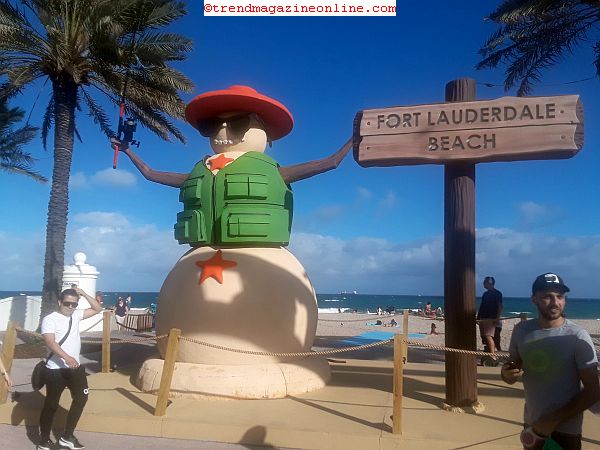 Some of you folks may find this hard to believe but it typically does not snow in
Ft. Lauderdale
all winter. So, each year this iconic snowman is place at the main entrance to
Las Olas
(The Waves)
Beach
located at the corner of
Las Olas Boulevard
and
Ocean Drive/A1A
to welcome the
Snowbirds
to
South Florida
. Do not worry, he does not melt in the heat like
Frosty the Snowman
as the creators thought of everything and made him with materials other than snow. Genius!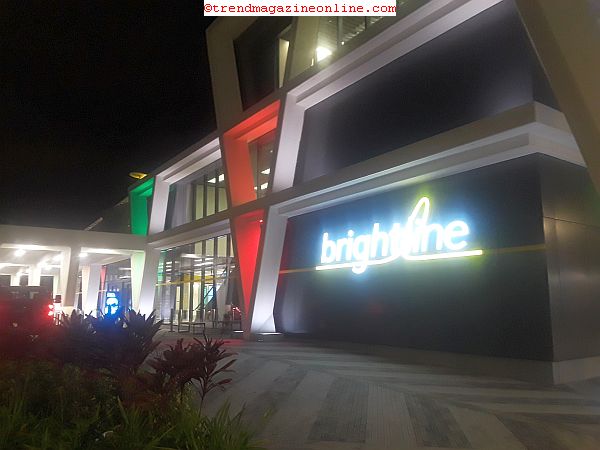 The really kool thing about
Ft. Lauderdale Beach
is that the white sand and ocean are just over a wall adjacent to
Ocean Drive
. There is no walking across an expansive parking lot to get to the fun. I engaged in my usual fun by taking a stroll along the
Atlantic Ocean/beach
. I stay on the edge of the water because of the many shark attacks along the
Florida
east coast. For me, one is too many!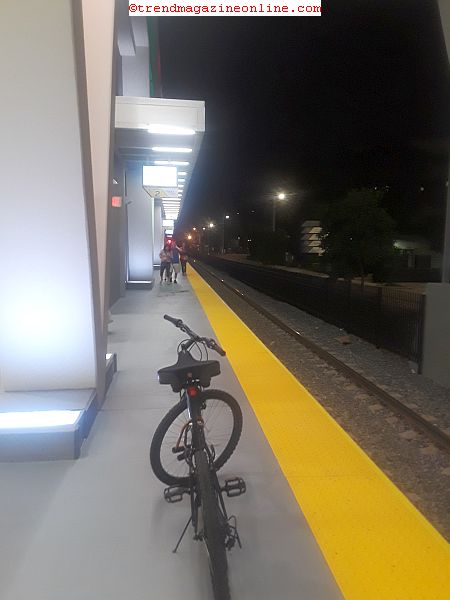 Next, I headed across the street to one of my now favorite
Florida
parks;
Hugh Taylor Birch State Park
where I get to take in the sites of folks enjoying the park, gopher tortoises that I have yet to see, and boaters frolicking along the
Coral Bay
. I sometimes take a brief respite at the local
7-Eleven
before heading back to the train station for my trip home. Me and my trusty bike.
Happy Holidays
!
The
Brightline
will be
making its inaugural debut
in the beautiful city of
Orlando
reportedly by
June
of
2023
. I look forward to partaking in that journey and reporting back to you with my experience.