By Jay Whipple
Trend Magazine Online™
A Kid's Paradise!
Portions re-published from a previous edition...
See end of article for NEW Updates!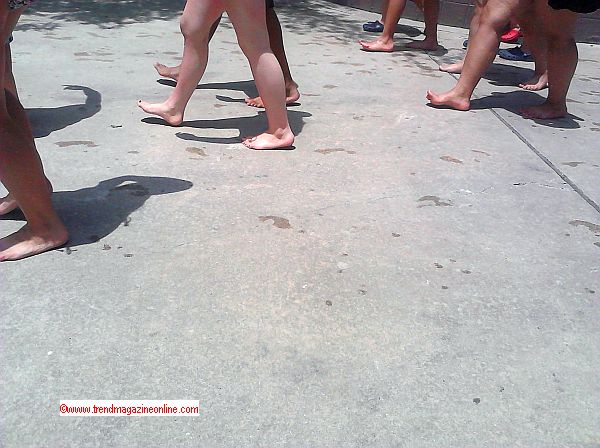 1990's just after they had decided to reopen to the public. I and an associate met with the then park point of contact for group visitors/motor coach groups. My company, Queen City Tours®, was preparing to promote bus trips to the newly remodeled water park, from Charlotte, NC. Our point of contact – cannot remember her name – was very prompt, professional, and courteous during all of our business dealings, and was even nice enough to give us a personal tour of their remodeled facility. She was quick to point out that the park was then a work in progress and that many upgrades were planned for the near future. Interstate depending on which direction you are traveling. I visited during the week and on a Wednesday (June 12) during just their 10th operating day of the 2013 season which commenced on May 25th. I arrived at the park at approximately 10:50 AM and just 50 minutes after it opened at 10 AM. There was practically no traffic at that time; however, things started picking up shortly thereafter as a steady flow of vehicles entered the park just after my arrival. The parking fee was $7 and I found the attendant very friendly and cordial. The small parking lot began to fill up quick after my arrival so I decided to park away to avoid the grid lock. They have the parking areas numbered so that makes it easier to locate your ride for the departure; that is, if you can remember what letter you parked near. You have to leave your yellow parking pass on your dashboard inside your vehicle so writing the letter on it would be pointless. In hind sight, it would be a good idea to just snap a pic of the letter for future reference as most of us do have camera phones now. There were a few minibuses and motor coaches lined up for a fun day in the water park as well.


IED's, etc… Just kidding! Just read the parking pass like I did. In the process of gathering my items for entry I discovered that I forgot to bring my sandals so I decided to check to see if they sold them in their gift/souvenir shop. I noticed some of the guests traveled light while others had elaborate loads that included very large coolers.