By Jay Whipple
Trend Magazine Online™
Quaint Inland Watery Experience!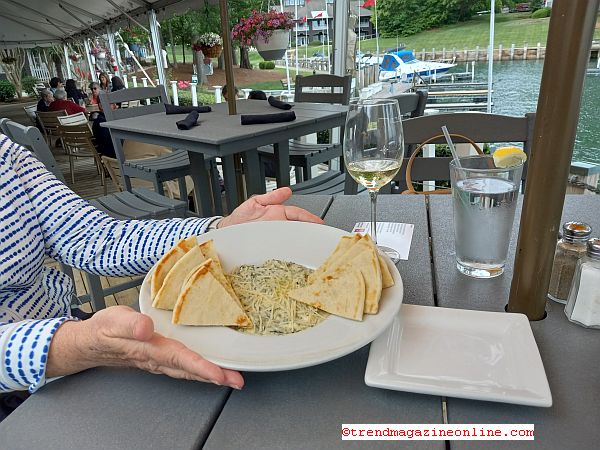 I ended up at this lake shore eatery at the invitation of a former boss who works for the
Small Business Administration
. She hired me as a moonlighter while I was attending the
Belk College of Business
at the
University of Charlotte/North Carolina
. Go 49niners! My part-time job was that of a facilitator at the
Small Business Resource Center
who assisted would-be and current entrepreneurs in the start-up or enhancement of their existing small business enterprises.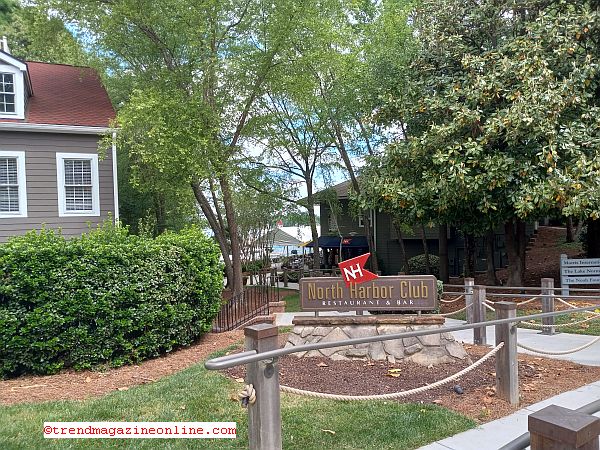 In my position I assisted many types of personalities and their endeavors to include the owner of the now famous
Uptown Charlotte
eatery
Mert′s Heart and Soul
, and the start-up of the
Dell Curry Foundation
; father of future
NBA Hall of Famer
and four-time champion and two-time league
MVP
Wardell Stephen
"Steph"
Curry II
. The most bizarre interaction that I experienced was when a uniformed
CMPD officer
came in to discuss the start-up of a new enterprise selling light bars. Those are the emergency lights on top of marked police cruisers. I did my job by advising him on the best way to get that business off the ground but in the back of my head I was hoping that they would change their mind as this was right about the time that some looney toon was masquerading around the area stopping unsuspecting women at night under false pretenses. Yikes!
This eatery is nestled along the largest lake in the two
Carolina′s
-
Lake Norman
was created in
1963
by
Duke Power Company
(1924; formerly known as the Southern Power Company [1905]), today known as
Duke Energy
[1997]. It feeds off the
Catawba River
and its original purpose was to provide hydroelectricity to the growing
Charlotte
area as well as recreation. The lake is
34 miles long
with over
520 miles
of shoreline and today houses a steam as well as a nuclear power plant. It is named in honor of
Mr. Norman Atwater Cocke
, a
Virginia
native, who served as president of the power company from
1947
to his retirement in
1959
. His former home as well as the
Duke Mansion
are located in the
Myers Park
community and are part of the
QCT Charlotte Daily City Toursm
-
Charlotte′s Longest-Running Daily City Tour
.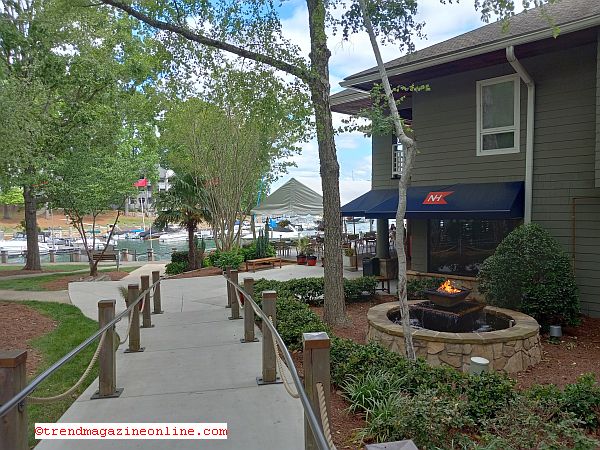 I arrived at approximately
11:15 AM
,
30 minutes
before our business lunch, and to get a chance to scope out the area and snap some pics. I noticed that they have limited parking to support the multiple shops that are located in proximity to the restaurant. Fortunately, I was able to find one near the entrance as people were leaving. I then headed into the
North Harbor Club
, which is a catchy name but nowhere near the ocean which is about a four-hour drive to the east. I was acknowledged immediately by a friendly hostess who escorted me to my choice seating near the lake and at the suggestion of my former boss who arrived shortly after I was seated. The outdoor patio decor was typical featuring hard plastic chairs and similar tables with a canopy over most seats. Our server,
Liz
, approached our table and was very friendly and cordial. I had already scoped out what I wanted from their well-designed website the day before our lunch engagement.
We both agreed on their
Spinach Artichoke Dip
for an appetizer which came with
Pita Bread
and was up in about
10 minutes
. While waiting I headed to the men's restroom which was very clean and well attended. I also got a chance to check out their indoor dining room area which was decorated with very chic linen tablecloths and fancy wood furniture. The dress code was family casual (per their website) but I would have felt a bit underdressed with my shorts and polo shirt inside this eatery.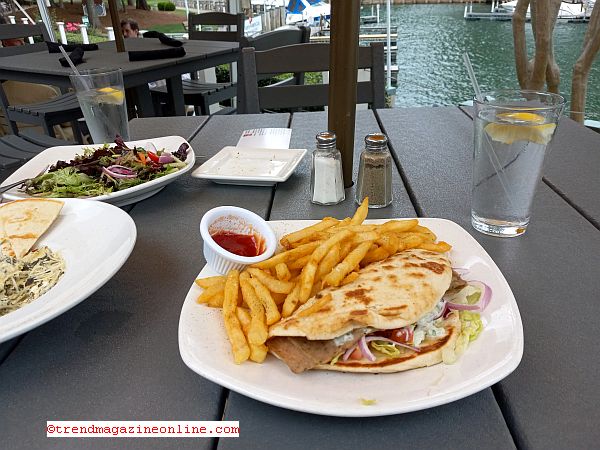 The pita bread was soft and very flavorful, and the dip was perfectly prepared, not too watery, or stiff, with all the ingredients in perfect sync. My old boss ordered their romaine lettuce salad and one of their pasta entree's while I ordered their lamb sandwich which was the special of the day and came with fries. Both orders came with their delicious pita bread and were up before we finish our appetizer. She stated that her order was good, and my lamb sandwich was scrumpdillyicious and very tender; the fries were prepared to perfection -- golden brown and crispy on the outside and tender on the inside. My old boss also suggested that I could cook it at home, and I suggested that it was not in my culinary wheelhouse. The total bill came to
$64.95
with drink and taxes. Not bad for a business lunch, right?
All in all, this was a great inland watery experience with excellent service and tasty menu items. It was also nice to see my old boss after all these years. I am not sure if and when I will be back because of its quaint location along
Lake Norman
which is many miles away from the
Charlotte
area. In addition, although from
Miami
, I am not a fan of water!
The
North Harbor Club
is located at
100 North Harbor Place
,
Davidson
,
NC
28036
, their phone number is
(704) 896-5559
, and website is
https://northharborclub.com/
. Tell them that
Trend Magazine Onlinetm
sent you!