My next stop was one that I have been patronizing since the
1980's
, [Sun. 10/09].
Sonny's BBQ
in
Concord
,
NC
, is also my go to spot when working out
QCT Charlotte NASCAR Shuttlesm
service during the big races in
May
and
October
. As such, it was fitting that I included them on this list although they are part of a chain of eateries. I stopped by their drive thru around
3pm
during the
BofA Roval 400
race in early
October
. I was working and wanted to dine from my vehicle since it was a nice sunny and cool autumn day. My order was up super-fast, less than a minute after I paid. It was as if I had pre-ordered. I ordered their
Pick Two Combo
meal that came with two meats and two sides and garlic bread or cornbread. I chose pulled pork and dark meat
BBQ
chicken with their mild sauce.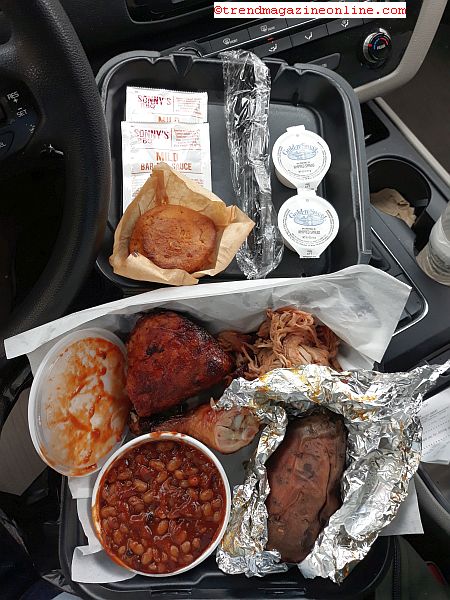 My pork was standard but not delicious because of the sauce which makes the pork as mentioned earlier. My baked beans were better than average; sweet and tangy, and cornbread on point -- cake like, moist, and buttery. My baked sweet potato was delicious; not over or under cooked and was especially great with their spread used for the cornbread. As far as my
BBQ chicken
, this eatery is the closest to home cooked that I have experienced for a chain store. It was slightly crispy on the outside/skin, and perfectly moist and tasty on the inside. Their sauce pairs well with the chicken. As always, I will most definitely be back!
My next stop was via our annual
QCT Fall Leaf Change Tripsm
[Sat. 10/15] to the
Blue Ridge Parkway
in the mountains of
North Carolina
and not too far from
Blowing Rock
is the
Little Switzerland Cafe'
. We chose this eatery because our
regular late lunch stop
is now closed, I suppose due to the
COVID-19 Pandemic
. We have actually
stopped in this replica Swedish mountain town before
during this trip but have not dined in their quaint restaurant. They were not sure if they were going to be open on the weekend due to staffing shortages, so we had a couple of other alternate stops planned. The limited parking spaces were just about filled so I dropped our guests off near the entrance and waited patiently for someone to leave.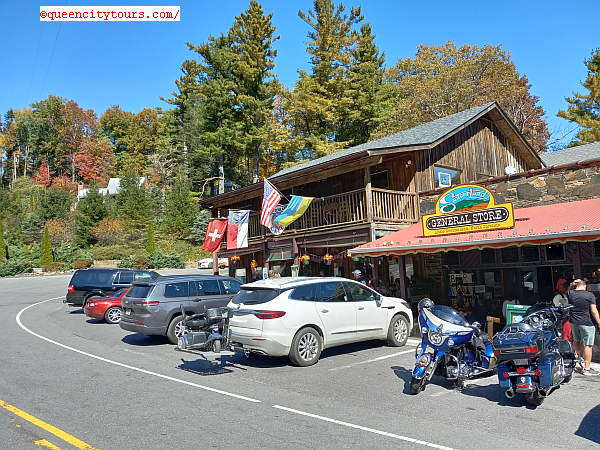 Thankfully, it was not long before a vehicle pulled out and I pulled right on in their spot along the narrow mountain highway. There was a line out front on the main entrance, but I was able to skip because our guests had already been seated. A great decision made by yours truly. We arrived right at
1 PM
and the place was still very crowded, which is typically a sign of good food and service. The decor was traditional country-style with mostly wooden everything. There was this interesting picture on the wall of an old-timey moon shiner from back in the day; however, I had heard from the grape vine that that old mountain-based illegal business is still in operation for those that know the secret handshake. With so many folks inside it was difficult to gauge the cleanliness of the dining area but our table was certainly in order and the men's restroom as well. I once again forgot to check the sanitation code but with that many customers I can safely assume that it was
90
or above.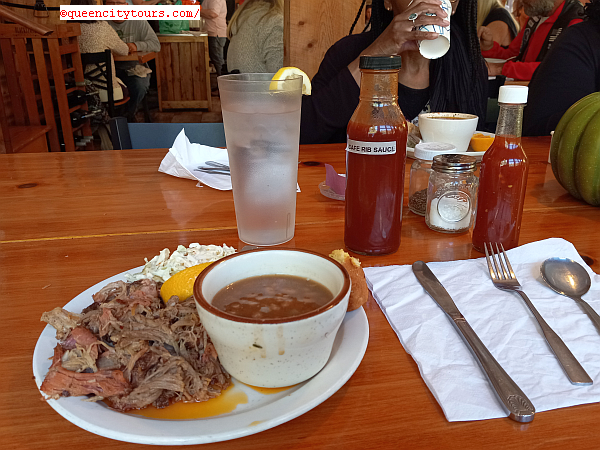 My guests ordered some of their off the wall menu items like
Quiche
, but I stuck to their specialty which is good ole' fashioned
Carolina BBQ
with baked beans, slaw, and cornbread for sides. Our orders were up, believe it or not, in about
10 minutes
, which was amazingly fast considering the crowd. The
BBQ
was as good as it gets for traditional pulled pork which was very tender and juicy with tangy
Eastern
sauce which is not typical for mountain folks who usually opt for the
Western
tomato based sweeter sauce. As mentioned earlier I prefer the
Western
style, but their tangy version was spot on good as well as all of the sides especially the baked beans which were homemade in traditional unique smoked-style spices. The slaw and cornbread were also homemade and like no other. My total came to
$20.81
with taxes and gratuity which I consider not bad for a great lunch. This will certainly be our first choice on our next
QCT Fall Leaf Change Tripsm
.