Upcoming Trips/
Events/Regional
Shop Til You Drop In Gatlinburg, TN!
Departs from the parking lot next to our old office at 3125 Eastway Drive, Charlotte, NC, 28205 (Eastway Executive Offices, across from Wal-Mart and McDonald's, between Central Avenue and Independence Blvd.).
Map it!
December
All along the Parkway and side streets, you'll find Gatlinburg shopping treasures in village-style stores reminiscent of days when shopping was a leisurely yet exciting time! With over 400 shops and five malls in downtown Gatlinburg, you're sure to find gifts galore (and surely a souvenir for you!). There are several collectible stores in Gatlinburg featuring one-of-a-kind pieces to add to your collection. Numerous Gatlinburg shops are filled with handmade arts and crafts, unique clothing and accessories from handbags to jewelry, and memorable keepsakes of your vacation in the Great Smoky Mountains.

Also, choose from a myriad of dining choices that offer everything from down-home cookin' to eclectic recipes from around the world.
If that is not enough, located in downtown Gatlinburg are more than 30 attractions ranging from a "Mysterious Mansion" to the "Guinness World of Records Museum."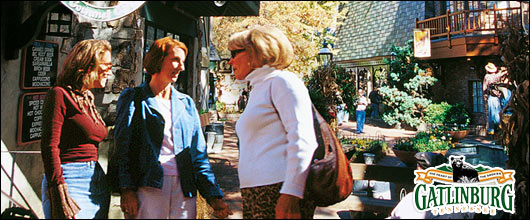 2022 Dates:
Saturday 12/3

Click here to check availability for other dates!

Time:

7:00 am -- 9:00 pm

Rates:

Adult (13 - 61): $69 per person; $63 per person/Advance (Up to 30 days before event)
Senior (62+): $66 per person; $60 per person/Advance (Up to 30 days before event)
Child (5 - 12): $60 per person; $54 per person/Advance (Up to 30 days before event)

Group Discounts (10+): $5 OFF per person if paid up to 7 days in advance.
Note: Vehicle size will be determined by size of group. You may purchase additional seats if you would like to ensure a larger vehicle or request a private tour.
---
Important!
Refunds:
Full Refunds Issued If Trip Is Cancelled By Queen City Tourssm and Travel
Click Here To Request Reservation Form!
Confirmations will be forwarded via email so make sure you give us an email address that you check regularly!

We no longer accept American Express Cards!

<<<Back to Regional Trips!

<<<Back To Upcoming Trips!