This walking tour was another option for the
Miami Tour Guide Certification Course
at
Miami Dade Community College north campus
. I chose the
Little Havana
guided walking tour because I have been curious of its history since growing up as a kid near
Liberty City
and passing through what appeared to me as a foreign country. And if my memory serves me correctly we had a track meet here at
Miami High School
way back in the late
1970's
. I ran for
Miami Beach Senior High School
but I cannot recall who won. Another reason for choosing this neighborhood is that it will eventually be a stop on the
QCT Miami City Tour
presented by
Queen City Tourssm and Travel
at
queencitytours.com
.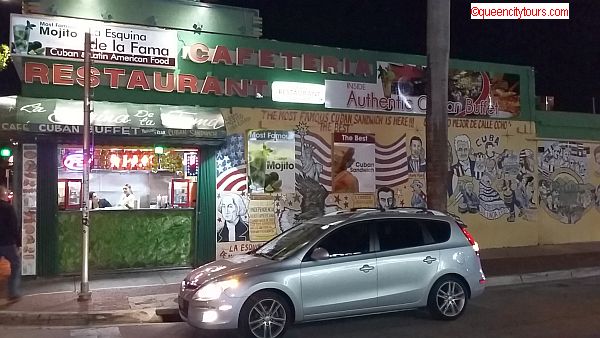 Back then you only stopped in this area if you had business there -- which was rare -- or if someone invited you; also rare, or for a sporting event. One of the barriers to this area is that just about all of the signage, billboards included, is written en espanol which translates to me -- stay out! It is a crying shame because the shops there will definitely experience a sharp increase in business if they post in
English
as well because most native (born here)
Americans
can only speak a lazy version of the
Queen's English
.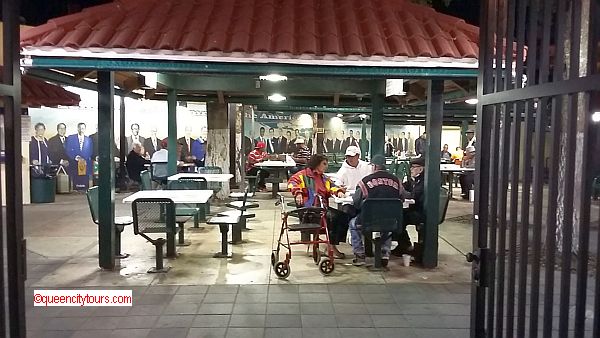 I must admit that I was thoroughly elated when I learned that our guide was
Miami
history guru
Dr. Paul S. George
who spoke perfect
English
. The scheduled tour time was from
7 PM
to
8:30 PM
; I attended in
February
which means it was dark (no daylight) from the start which was in front of the old movie theater (Tower) off the famous
South West 8th Street
a.k.a.
Calle Ocho
(hot eight). Another nicety of this tour is that it was gratis (free). You just have to contact them ahead of time to reserve your spot.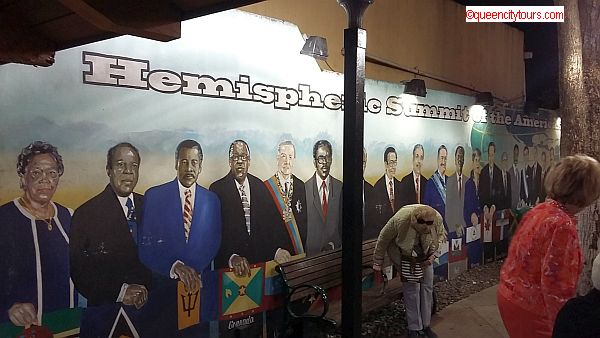 We began our tour with a brief background narrative by
Dr. George
who explained that
8th Street
was an undeveloped dirt road that was part of farm land and the area north was known as
Riverside
(where Cuban immigrants first settled starting in the 1950's). The
Tower Theater
, he said, was completed in
1926
(during the Vaudeville era and year of the Miami Hurricane) and was not in operation from
1984
until
2000
(16 years). Today it is home to the
Miami International Film Festival
which recently came under fire this year (2017) for not recognizing the
Academy-Award
winning movie
Moonlight
; based on the true story of a gay
Black
male
Miami
native growing up in the
Liberty Square
projects affectionately known in the hood as the
Poke N Beans
. That area will be a stop on the upcoming
QCT Miami Black Heritage Tour
presented by
Queen City Tours and Travel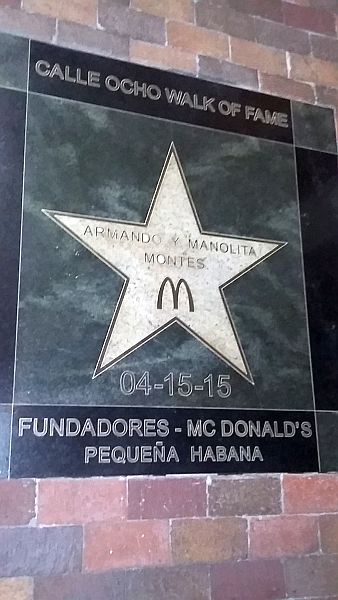 Next we headed to
Baker's Drive Inn
which opened in the
1940's
and the now famous city-owned
Domino Park
that is open
9 AM - 6PM
seven days a week according to our guide. Can you guess why it is called
Domino Park
? They have a mural of some very interesting-looking men painted on the wall that should be worthy of a closer inspection.
Dr. George
then pointed out the names of some famous and some well-known
Latinos
that are inscribed into the sidewalk bricks known as the
Walkway of Stars
which began in
1989
. I spotted the one that listed
Sammy Sosa
(Chicago Cubs) whose record-breaking pro baseball home run derby with
Mark McGwire
(St. Louis Cardinals) in
1998
is now mired in controversy due to doping rumors.