By Jay Whipple
Trend Magazine Online™
Art, Art, and More Art...Portions Re-published from a previous edition with 2022 Updates!
cont'd.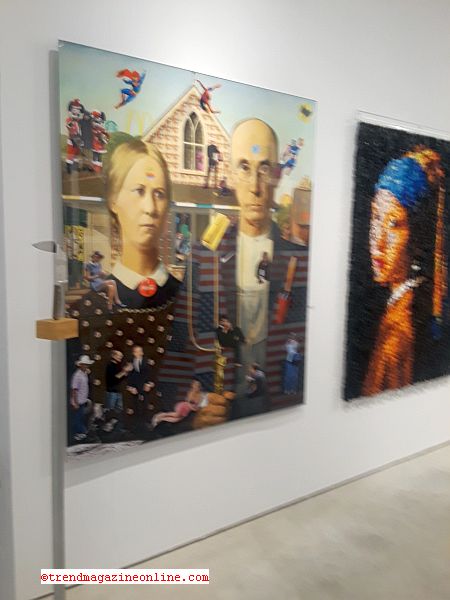 UPDATE!
This year
Art Miami
,
CONTEXT Art Miami
,
Aqua Art Miami
,
Art Winwood
, took place in-person from
November 29 - December 4
,
2022
.
Art of Transformation
returned to
Opa Locka
after a two-year break due to
COVID-19
(Coronavirus). The
4-day event
is part of
Miami Art Week/Art Basel
and reportedly was
South Florida's
largest display of
African disaspora art
. The city of
Opa-Locka
is covered on the
QCT Miami Daily Black Heritage Toursm
.
Click here for a list of 2022 Exhibitors
and
here to Purchase Tickets for 2023
!
Miami Art Show 2019 Highlights...
Welcome back! Picking up where I left off in
Part I
; I would be kicking myself for the rest of my life I had not stopped at this next exhibit which featured a very familiar depiction of a farmer and his wife - pitched fork included. I first saw this depiction, as a kid, in the opening of the popular sitcom
Green Acres
which aired from
1965-1971
. I later learned that their depiction was adopted from the now famous painting by
Grant Wood
(1891-1942) entitled
American Gothic
that he first introduced to the
Art Institute of Chicago
circa
1930
where it is currently on display. The models were his sister and dentist dressed up like a farmer in front of an actual little wood farmhouse in
Eldon
,
Iowa
(his home State). The presenter of this work was the
Aldo Castillio Gallery
of
Estoro
,
FL
. Next I could not bypass the exhibit that featured what appeared to be metal blankets draped over a rock and hanging from the wall. It turns out that this work was actually fashioned from old juice boxes that the artist (Olumide Onadipe) collected in
Lagos
,
Nigeria Africa
; his home base. He earned his
Master's Degree
in
Visual Arts Education
from the
University of Lagos
and is
"Fascinated by textures and environmental themes, and explores the use of re-purposed plastics and paper to create mixed-media sculptures, wall hangings, installations, and paintings."
I am immediately drawn to any exhibit that features the word
Miami
; such was the case in the
Subs Miami
piece hanging from the wall of the
Galerie Artima
presenter. I also liked the way the work incorporated amenities associated with our
world-class city
to include
MIMO
(Miami Modern) architecture, palm trees, and sandy beaches. The presenter is located in
Paris
and
London
. I caught the person staffing this next exhibit deeply engrossed with his mobile device and could not pass on the opportunity to capture what I consider a
"two heads are better than one"
scenario. Ironically the work is entitled
"Brain within a brain"
and the presenter was
Gallery Chiefs and Spirits
out of the
Netherlands
. That guy was more than likely using his mobile device to greatly enhance their works by posting something useful on social media to draw a bigger crowd to their exhibit. Thanks to him it got my attention.