By Jay Whipple
Trend Magazine Online™
Edutainment At It's Best!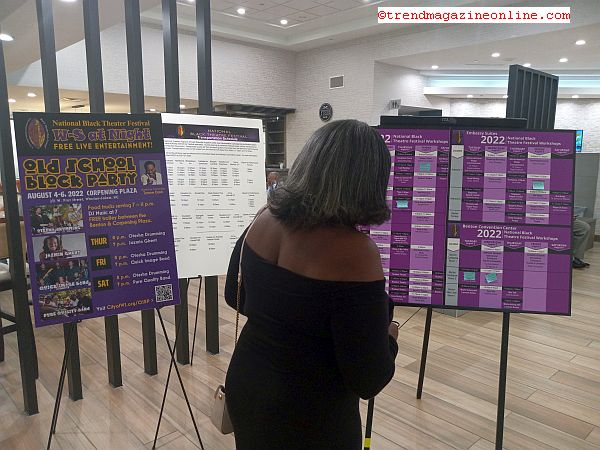 This was my first quasi post
COVID-19
National Black Theatre Festival
(NBTF) and
4th
overall since
2011
. My budget allowed me to attend one day this go round since I have moved out of the quaint city of
Winston-Salem
,
NC
, a number of years past. I decided to attend on
Thursday August 4
,
2022
, because the plays that I wanted to check out were scheduled at times that made it possible for me to travel to both in the same day. I chose the
Natural Woman: An Aretha Story
just because she earned and kept the title of
The
Queen of Soul
and was married to
Mr. Glynn Turman
who I had the privilege of interviewing at this festival in
2011
. My second choice was the play
Frederick Douglass: No Turning Back/Sojourner Truth
because of my passion for
Black history
and the fact that they are both covered in my book
Black Charlotte From A Tour Guide's Perspective
.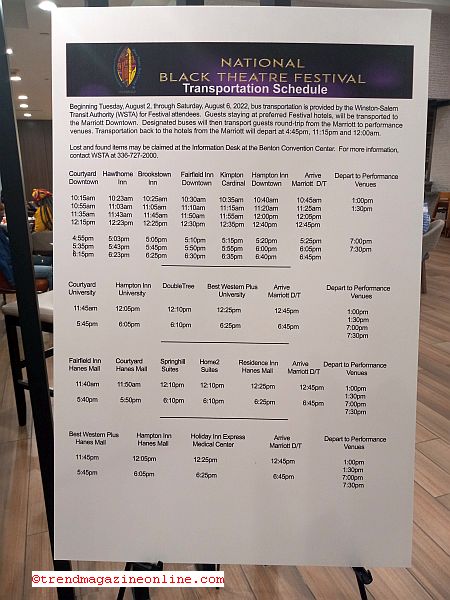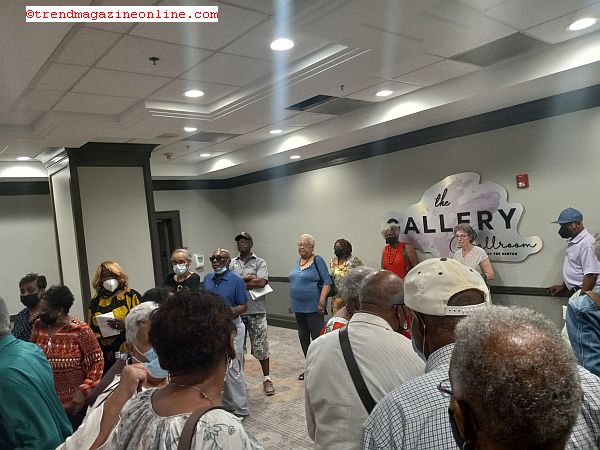 I arrived at the venue at approximately
1:20pm
after walking a half a mile from where I ended up parking at a motel just east of
Downtown
after searching for about
10 minutes
for free parking. I missed the last inbound
NBTF
shuttle bus from my usual
Downtown
hotel spot due to a logistical error on my part. It was very humid and muggy as usual in the city, and I had to dry off/cool down for about
15minutes
after my walk
Downtown
to the hotel venue. After cooling and drying off I was headed downstairs when two ladies informed me that they were told that the doors would not open until
2pm
which was actually the advertised play start time. Yikes I thought; this is going to ruin my schedule of other events/stops. I then decided to hang around a bit more in the lobby of the
Benton
(formerly Embassy Suites)
Hotel
and then head downstairs again after seeing other folks head that way. When in doubt; follow the crowd, is one of my life's credos!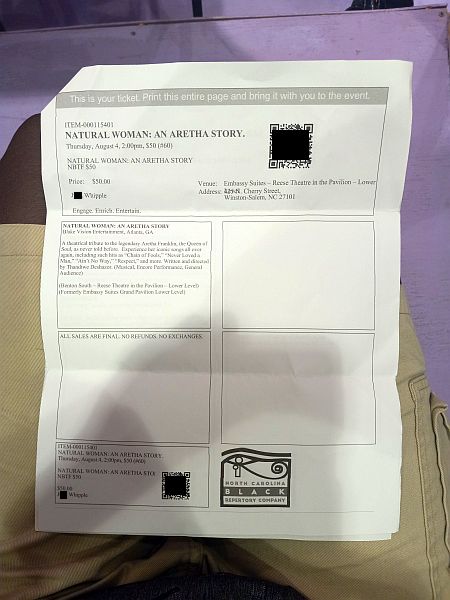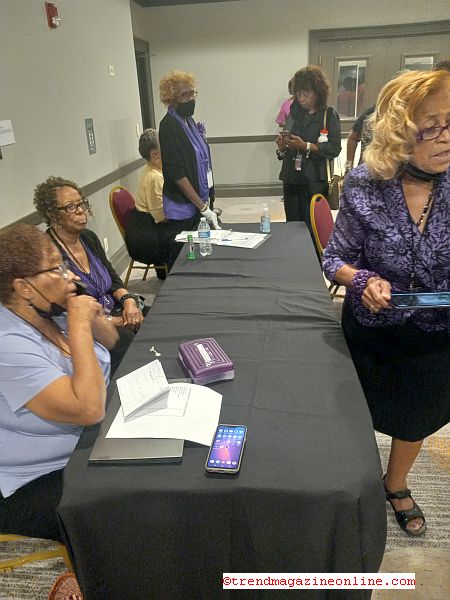 After arriving downstairs, I then realized that my credo/instinct was correct as a small crowd had already assembled near the venue's doors. There seemed to be a bit of chaos as there were people waiting in several different lines although there was only one main entrance. I surveyed the situation and decided to take up a spot near what appeared to be a sign-in table perpendicular to the venue entrance. As more and more theatre-goers arrived the scene became more and more chaotic as the newer folks began hovering near the entrance door. I then began to eavesdrop on the ladies at the table and overheard them conversating about their ticket scanners not working properly.That is not good, I thought to myself, and then others began to listen in as well. It was nearing the two o'clock start time and some folks began to get a bit fidgety as more and more audience members arrived. Finally, one of the ladies at the sign-in table
announced that they were indeed having problems with the ticket scanners
which were part of their no-contact plan to combat the spread of the
COVID-19
virus. They then made a command decision to go to the old school method and just visually inspect each ticket holder which proved to be easier said than done. All I can say is that I paid for my ticket!
Once they open the doors and began running us through
the expressed ticket verification queue, we entered the venue and took our general admission seats rather quickly as this interracial audience was indeed anxious to be entertained.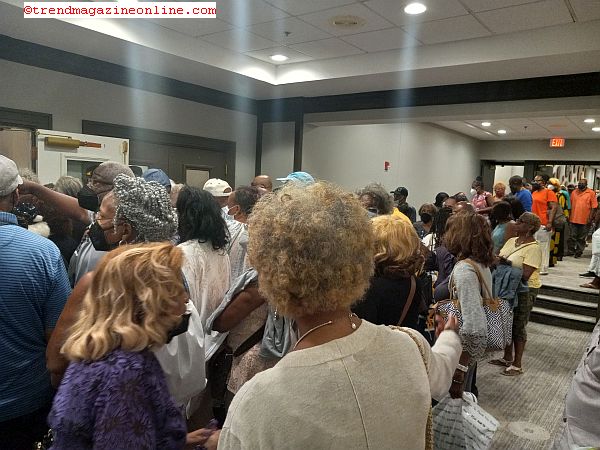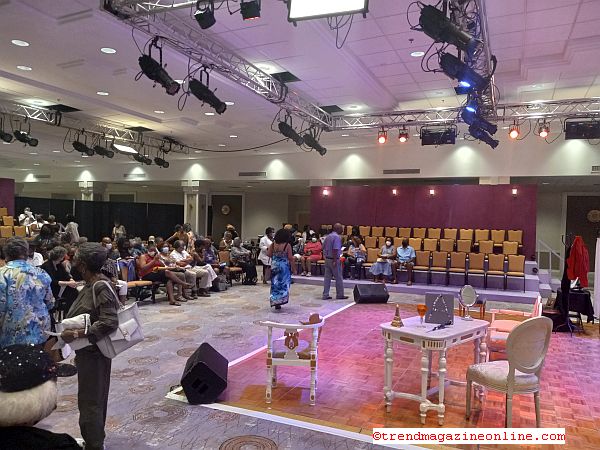 The set was located near the main entrance with tiered stadium-type seating on three sides and was a simple one that included a piano with lamp, writing desk, wine glass, mirror, crown,
Eiffel tower
chair, extra chair, a two-seater, small dresser with pics, coat rack, and homage to
President Obama
. The imaginary curtain was up at
2:10pm
, just
10 minutes
off schedule, with an older and younger version of
Aretha
on stage. There was a brief song with a live band and background singers behind the stage. Next, the focus turned to the older
Aretha
reading in her diary to her late father, the
Reverend Clarence LaVaughn Franklin
(1915 - 1984) of the
New Bethel Baptist Church
in
Detroit
,
MI
. She began to reflect on her well-storied life concerning her men, roller skating, her first child at
age 12
(Clarence), her mother moving to
Buffalo
,
NY
; her singing in the church and the memory of gospel great
Mahalia Jackson
(my favorite gospel singer) not paying her for a gig.She then began to reflect on her memories with
The Staple Singers
, her reported fling with
Sam Cooke
at the
Savoy Hotel
in
Atlanta
,
GA
(while traveling with her father), her fling at a skating rink in
Detroit
and getting pregnant again at
14 years old
. The younger
Aretha
character then broke into a rendition of
Chain, Chain, Chain
(1967). The vocals were okay but far short of the
Queen of Soul's
which not too many can replicate. The backstage band featured a drummer, guitarist, and keyboardist who were excellent musicians. The older
Aretha
then explained that she had a natural birth (Edward), and then went back on tour again. She reflected on her trip to
Los Angeles
, more
Sam Cooke
personal business, and the fact that her pastor/father was not against secular music. The older
Aretha
character then hinted at a personal relationship with
Berry Gordy
(Motown), her controversial
Dinah Washington
remake, and her new manager (future husband)
Mr. Ted White
.